When creating any type of content, from web page copy to blogs, a business should always take into account the process of search engine optimisation.
Search engine optimisation, or SEO as it is typically known, is a common technique used by marketers that shapes content creation in order to rank higher in SERPs (search engine result pages).
But if one of your web pages is showing up on page 4 for a generic industry-related keyword, you can't just sprinkle that keyword throughout your web copy and expect a page-one miracle.
First of all, you must conduct keyword research, and most importantly continue to do so in order to optimise your website and content to meet users' needs as their searches change over time.
Did you know that 51% of all website traffic comes from organic search? By identifying what potential customers are searching for, you can be in the right place at the right time with the right solution to solve their problem or query.
By optimising your website and the content you create by implementing a keyword strategy, you can easily increase traffic by ranking higher for specific keywords that relate to your business. Not only that, while keyword research is helpful for improving your organic ranking, you can also use your findings when running pay-per-click campaigns such as Google or Bing Ads.
When conducting your research, it is best to focus on long-tail keywords, often made up of 3+ words to make a short phrase. People who search for these terms will have higher intent, and are possibly further down the sales funnel, than those who are making searches with generic words. For example, someone who types in 'ladies summer shoes' might be looking to see what type of shoes are out there such as sandals or flip flops. On the other hand, if someone was to search for 'ladies white espadrilles size 4', they would have a definite product in mind and are much more likely to make a purchase.
Luckily for you, looking for the perfect keywords for your company is not a guessing game as there are several fantastic, and often free, tools that you can utilise...
Google Keyword Planner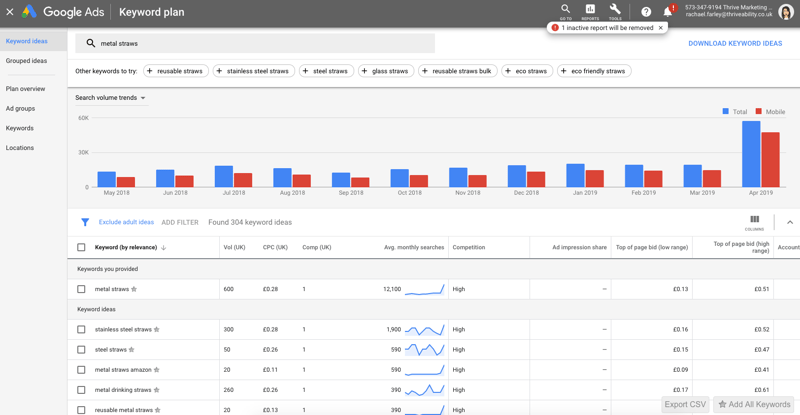 The Google Keyword Planner is probably the most well-known keyword research tool out there. It is free to use, all you need is a Google Ads account - don't worry as you won't need to run a PPC campaign to use the tool.
The beauty of the tool is that you can research keywords purely for SEO purposes or for Google Ads campaigns, with the option to check out what keywords you're currently bidding for in your account.
When using this tool, you can either type in your own keywords or enter a URL for a whole website or a specific web page where Google will look for relevant keywords. At this stage, Google's Keyword Planner can give you statistics on average monthly searches, competition, average CPC bids and much more, all for free.
KeywordTool.io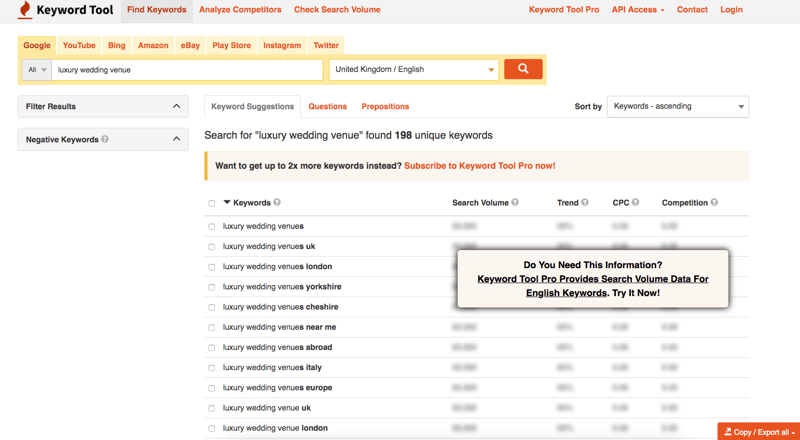 KeywordTool.io is another free tool, that doesn't even require an account, which can generate up to 750+ long-tail keywords suggestions for each search term.
Not only can you analyse keywords on Google, but you can also check out analytics for sites like YouTube, Amazon, the Play Store and more sites - this may come in handy if you have an e-commerce site or create videos as part of your content marketing strategy!
However, in order to access the tool's full capabilities such as search volume, trends (how monthly search volume changes over time), competition, etc, you must sign up for a paid membership. The Pro Basic packages starts from $69 per month.
Moz Keyword Explorer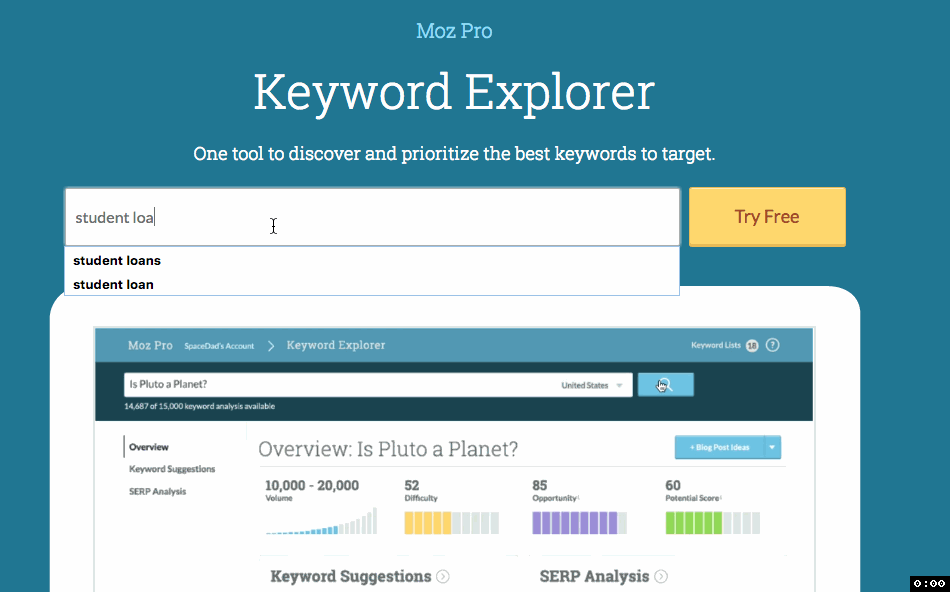 Moz Keyword Explorer is best for small to medium-sized businesses, as it analyses keywords in order to give you the basic data you will need to make informed decisions for SEO or PPC purposes.
The tool has some free elements such as Open Site Explorer and Keyword Explorer but users are limited with how many searches they can make on a regular basis. Alternatively, the Moz Pro subscription starts from $99 per month and allows you to track SEO progress and get access to page optimisation tips and weekly rank tracking for your chosen keywords.
Google Trends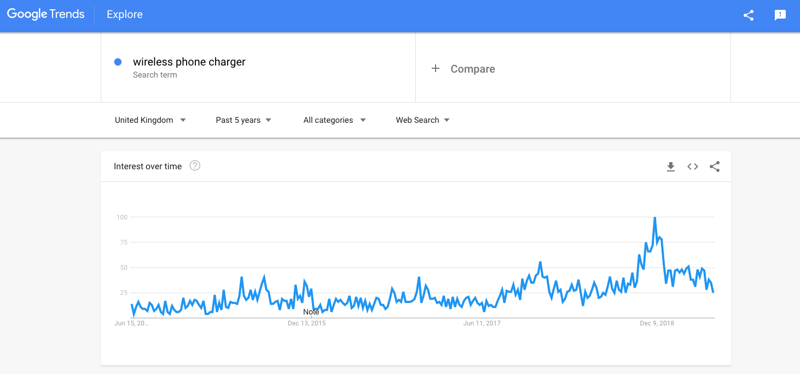 Although not defined as a keyword research tool, marketers can use Google Trends in order to view a visual comparison of traffic levels for a certain keyword phrase.
For example, you might see that over time a search for 'wireless phone charger' has gradually increased over time. This new insight may then drive you to develop some content, such as a blog, to guide customers to your website in which they could find out more information and possibly make a purchase.
SEMRush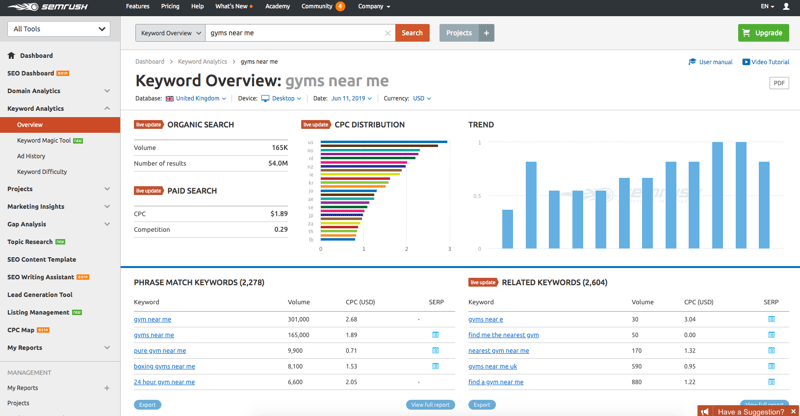 Last but not least, SEMRush is ideal for experienced digital marketers that want more advanced analytics and insights from their keyword research tool.
SEMRush is purely a subscription-based tool and the cheapest option starts from $99.95 per month. However, by signing up for the tool, you will be able to conduct organic and advertising research, plus analysis of backlinks, understanding traffic analytics and much more!
It's vital to choose a keyword research tool that works for your business. If you're just getting started with SEO or PPC, you should probably opt for a basic tool that will allow you to look at monthly search volume and competition to build up a strong keyword list.
On the other hand, if you want to take things to the next level, you may decide to take out a subscription to access powerful data that will help to shape your organic and paid search marketing efforts.