As we all settle into WFH life, with who-knows-what government-imposed rules, it might be time to 'spark joy' in your home office.
If you've been in your home office (spare bedroom) for a while then it's probably time to review if it's working well for you - both logistically and mentally.
Re-read our recent post, How to Adapt Your Mindset now WFH is Here to Stay, to improve your mental approach to home working.
If you've covered the mental impact of your WFH space it's time to review how it's actually working in terms of productivity, and making you feel positive about 'coming to work' each day.
Here's five must-haves that our team have discovered:
01. Natural light
You cannot beat a decent source of natural light, and one that is positioned so there is no glare on your screen. Adjust your room to ensure you're in the best possible position, especially as the recent clock change and winter nights will mean the lighting in your room will change.
Tip: Invest in a quality, well-placed lamp, because soon enough 4pm will come around with a cloak of darkness…
02. Storage Options
Sure, you can invest in pen pots from Wilko, Ryman, (insert quality high street shop here), but have you looked around the home for alternatives?
Food storage canisters, product packaging or jewellery boxes can create eye-catching, colourful desk accessories, take these examples I've used in my home office: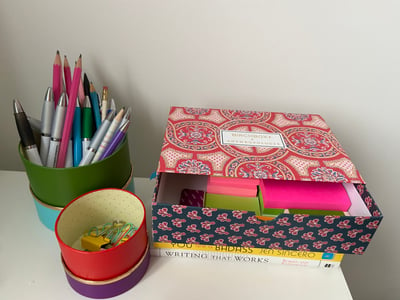 IMAGE: Storage solutions from Kate Spade jewellery packaging
and Birchbox beauty subscription packaging
Tip: Why not get some less than attractive cardboard boxes from around the office or kitchen and wrap them in stylish lined paper or wrapping paper, for stunningly unique storage?
03. Visit the opticians
It sounds odd, but one of the best things I've done later in lockdown is visit the opticians, something I'd been putting off - my eyes haven't really changed so "Why risk it?" was my attitude. But your eyes are deteriorating as always, regardless of COVID, and changes to your office setup, including screen usage and lighting can all have further impacts on your eyes.
Look after yourself, you're worth it!
Tip: Have you tried blue-light blocking glasses (for those lucky ducks with 20/20 vision) or anti-glare on your prescribed glasses? These can have a fantastic impact on the effects of artificial light on your eyesight, reducing eye strain and tiredness.
04. Posture-friendly solutions
That dining room chair just won't cut it anymore. See if you can pick up a chair from the office, or find one online, with the likes of IKEA and Argos offering convenient delivery options if you're wary about going out into the big wide world at the moment.
Crucially, check this NHS guide, 'How to sit at your desk correctly', for guidance about the distance between you and your screen, and keyboard, and check that you're using the right setup for your wrists when it comes to using a keyboard and mouse.
This isn't just the few week haven we thought it might be in March 2020, so let's get set up for some long-term home working comfort, agreed?
05. Reading materials
Your workspace should offer opportunities for expanding your learning, and giving your mind a break from the glare of the screen.
Enter, books. Or magazines.
It's crucial that your workspace not only works for work, but also for giving yourself a mental break. It's easy to think you need to constantly be typing and talking, but actually taking a step back for 15 minutes to read a relevant industry piece or even a magazine or newspaper can allow you the mental break to come back to work more focused and agile.