Christmas time is meant to be a joyous time but it can also be the busiest, and most stressful, time for businesses.
With an influx of work and time-bound tasks, it's vital that employees are motivated in order to keep productivity high and avoid Christmas burnout.
A report by Peakon has found that "16th December is the day of the Great Christmas "Click Off" – the point when productivity will plummet, as weary staff turn their thoughts towards the holidays."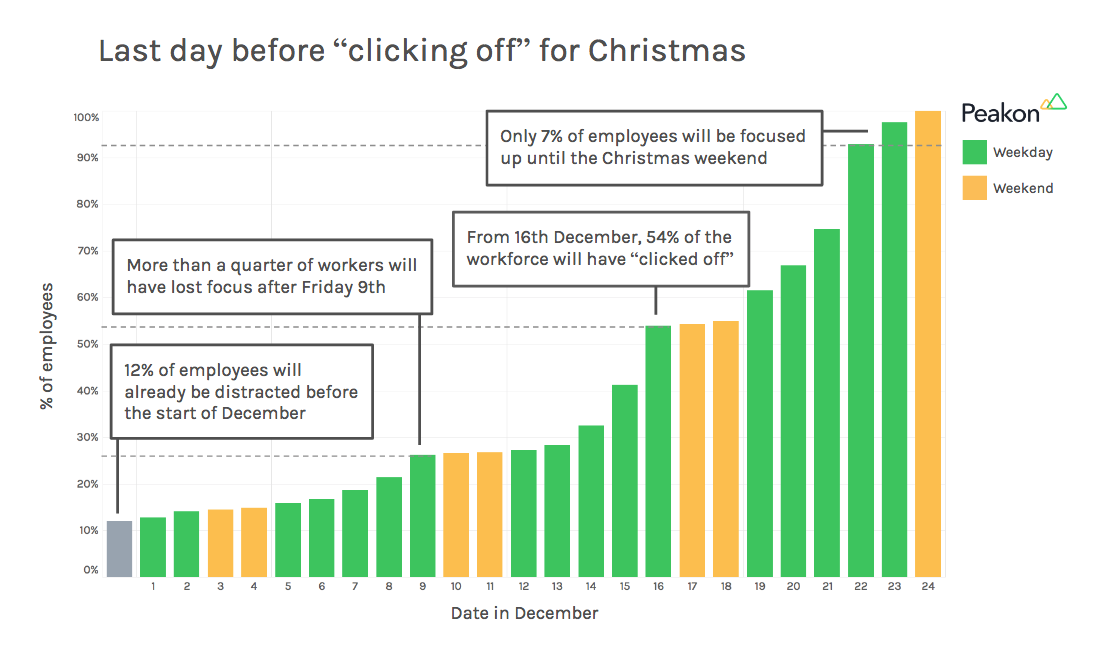 With some employees starting to get distracted at the beginning of the month, how can you ensure that you keep yourself on track throughout December?
Keep Your To-Do List Realistic
Write a new to-do list every day or a detailed one for the week ahead, whatever works best for you. Keep each task realistic and manageable - instead of 'write the marketing analysis report by Friday', try splitting it up such as 'complete marketing intro by Tuesday' and 'write section B by Wednesday', etc.
If your workload is starting to get on top of you, consider speaking to a colleague or manager to see if your tasks can be delegated amongst your team to give you some breathing room.
Organise Rewards
Speak to your boss to see if you can organise a Christmas party or a meal at the end of the year as a 'thank you' to staff. If that won't necessarily work, small treats throughout the month such as a box of chocolates or a bottle of wine would help boost team morale during the busiest season.
Work-Home Life Balance
Extra work may mean extra hours or even sneakily replying to an email out of hours, but be wary not to blur the lines between your work and home life. It's easy to exhaust yourself by spending all of your time in the office - but all work and no play can have disastrous consequences. If you need to switch your work phone off when you step out of the office at 5pm then do it, or risk burning out!
Be Held Accountable
If you're struggling with lack of motivation, then make sure someone holds you accountable to get the job done to a high standard. Try to avoid micromanagement, but if a daily or weekly check-in will help you progress consistently then put some time in the diary to catch up with a colleague. The little extra push will enable them to help you, and vice versa, through the festive season.
Have Some Fun
A little bit of fun never hurt anyone at Christmas time! Get the office involved in the festivities whether this is getting the team together to decorate or holding a festive bake-off. Get creative and don't forget to share on your social media platforms!
Keep It Healthy
While it might be easy to turn to a quick sugar fix (who could resist the Celebrations box?) to give you a pick me up during a lull in the day, the instant boost won't last long. After 20 minutes, you will lack focus and be easily distracted - not ideal when you've still got three hours to go. Instead, reach for a healthier alternative such as fruit, nuts or yoghurt to keep you focused throughout the day.
Do you have any tips of your own on how to stay motivated over the festive season? Share them with us by tweeting @ThriveHQ!