In 2019, there will be an estimated 2.77 billion social media users worldwide so Snapchat and Murphy Research have teamed up to find out how users are impacted by the apps they use.
The study, dubbed Apposphere, surveyed 1,005 app users aged 13-44, to find out why users choose the apps they use, when they spend time on each and how each app makes them feel.
Head of Consumer Insights, at Snap Inc., Amy Moussavi, had the following to say about the study:
"In a world with so many apps available to us, we wanted to better understand the roles each platform plays in consumers' lives. Through this research, we learned that each of the apps tested elicits vastly different emotions and experiences in the lives of its users. For instance, 95 percent of Snapchatters say the app makes them feel happy, more than any other app tested."
Impact on Mood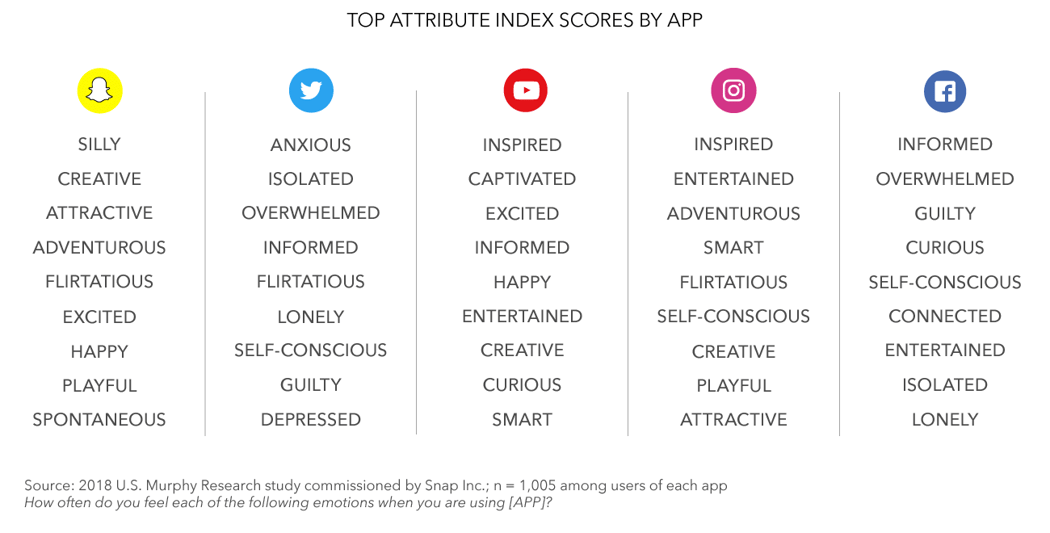 The five social media giants; Snapchat, Twitter, YouTube, Instagram and Facebook were all compared to find out how users feel when they use each app. Snapchat was found to have the most positive moods attributed to regular use such as 'happy' and 'playful'. On the other hand, Twitter and Facebook users reported feeling 'self-conscious', 'lonely' and 'guilty'.
Main Use of App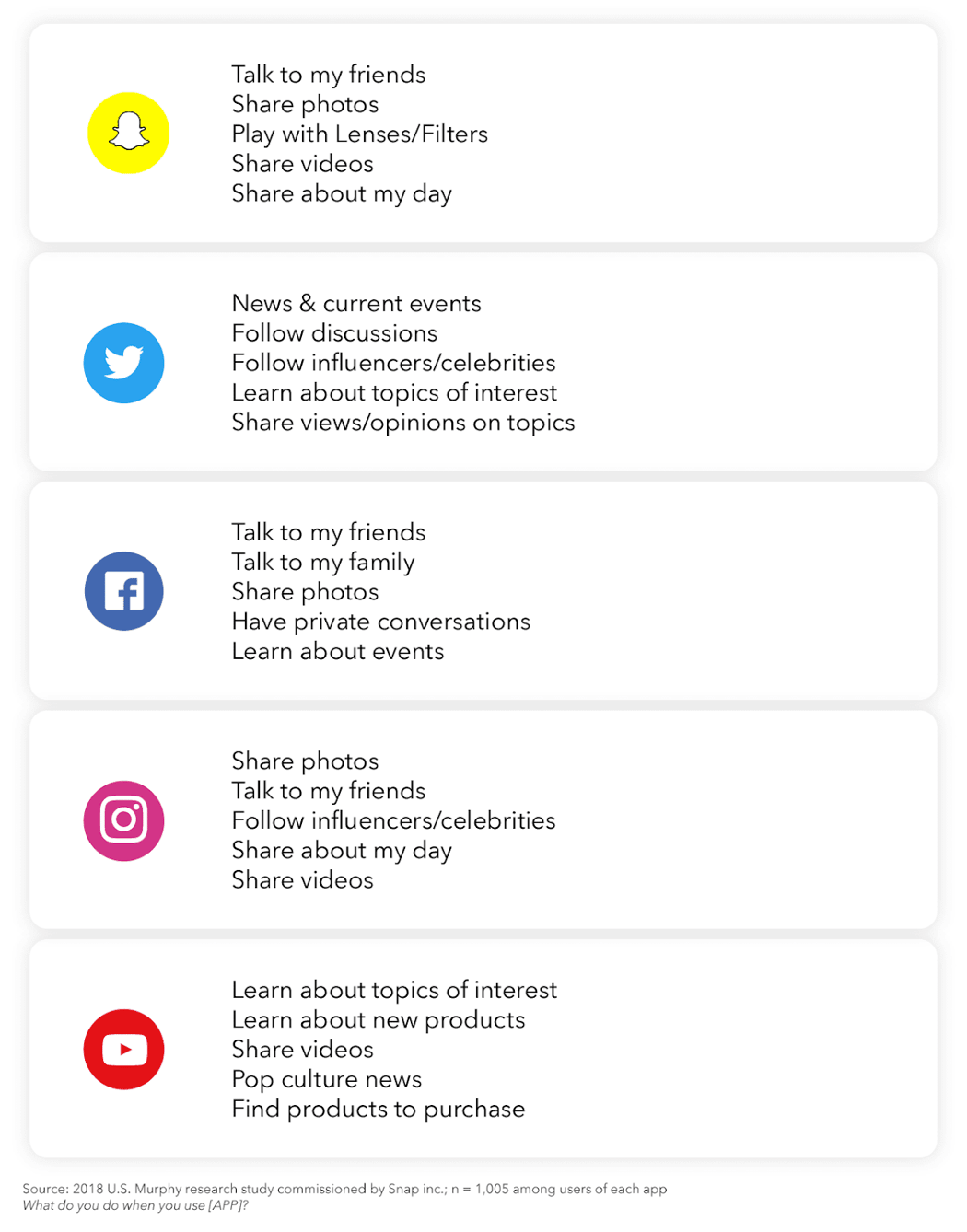 Participants were asked 'What do you do when you use [APP]?' and it's no surprise that each platform differs with the most popular response.
Snapchat - Talking to friends and playing with Lenses/Filters
Twitter - Keeping up to date with news and current events
Facebook - Talking to family and friends
Instagram - Following influencers/celebrities
YouTube - Learning about topics of interest and new products
Time and Place
There's always a time and place for each social media app, whether we're on the go or can't get to sleep.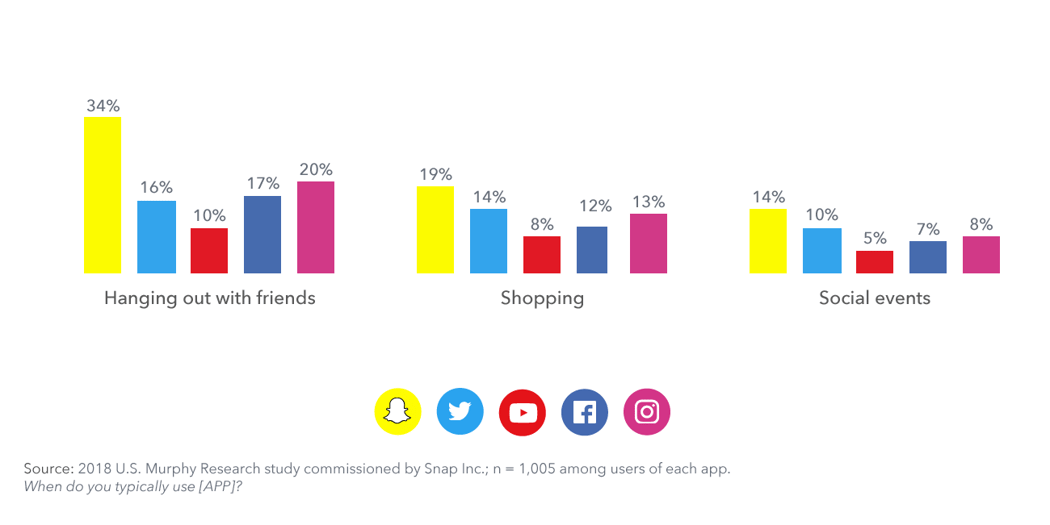 Snapchat is one of the most popular platforms to use while hanging out with friends (34%), on the go (32%) and while commuting (29%).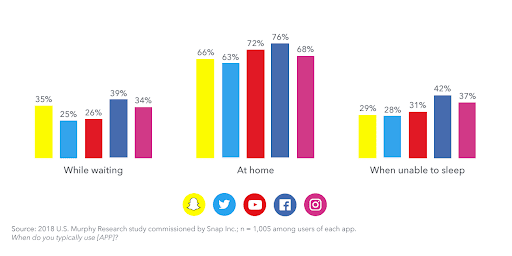 If users are struggling to get to sleep, they're most likely to open Facebook (42%) or Instagram (37%).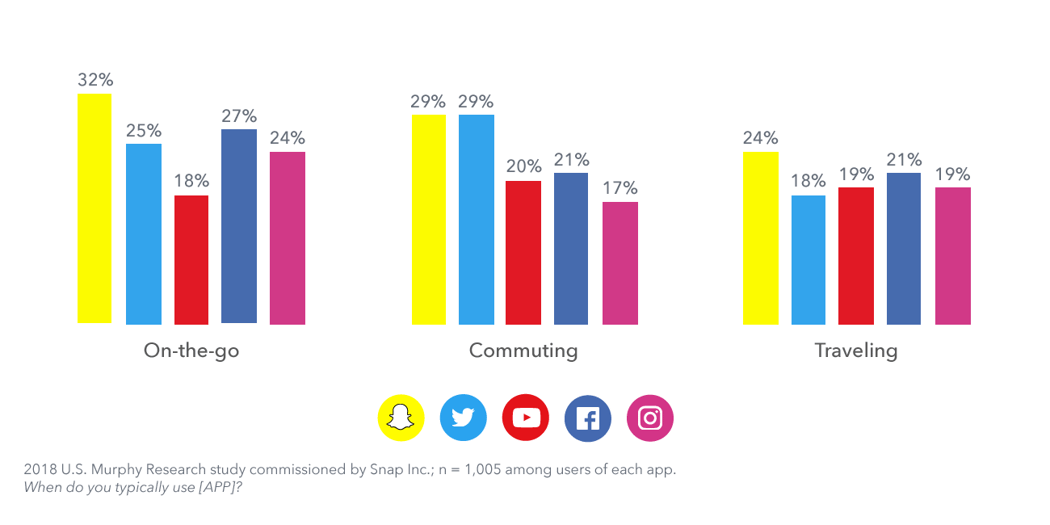 Frequent YouTube users avoid the platform on the go and are more likely to stream content while waiting (26%), at home (72%) or when unable to sleep (31%).
What findings are you most surprised by?