We've spoken a lot about our new ways of marketing - 'inbound marketing' - or 'content marketing' as some know it better as.
In this blog in our Inbound Marketing 101 series, we're discussing stage two, "convert".
In line with many inbound marketing agencies, we share the belief of 'inbound methodology', as it's known, which is a cycle following four key marketing stages: attract, convert, close and delight.
This has been the most effective method of marketing since 2006, when marketeers really embraced modern technologies and accepted that the old 'outbound' ways, just weren't up to scratch any more.
The main goal with inbound is that by creating content that is suited to the reader's interests, you will naturally attract the traffic you'll need to convert and close over time. On top of that, you don't just end there, but continue to delight customers with continuously great content.
Previously, we've blogged in this series about "What makes an inbound marketing campaign?" and introduced you to the first stage in the inbound cycle ("attract"), so today introducing "convert".
"Convert" is when the work really kicks in (believe us, if you thought blogging and social media were hard, give it up). We love the "convert" stage as although it's a lot of effort – the rewards are really reaped here. You've already enticed your strangers to become recurring visitors, so now we need to make them "leads".
Attract, Convert, Close & Delight explained...
Stage Two: Convert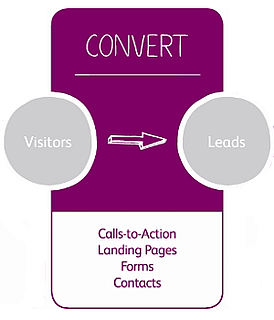 The inbound marketing process may seem like a lengthy one, but in reality you should be considering these options with or without an inbound strategy / interest. 'Convert' follows the 'attract' stage of inbound marketing methodology, ensuring you start to gain invaluable information about your visitor / potential customer.
We're converting visitors into customers as we learn information and reward them with high quality content they want to engage with.
Essential tools in this process are:
CALLS-TO-ACTION: These are buttons or links which encourage visitors to take action, such as 'download now' or 'request now'. It is these buttons that really excite and entice visitors, as you should be giving them something great in return for a few of their details.
LANDING PAGES: Without landing pages, the whole inbound process would get pretty confusing. This is the page on your website where visitors are directed after clicking on your CTA (Call-to-Action).

FORMS:

Converting a stranger into a visitor takes great quality content, transforming them into a lead is done through the 'convert' stage (CTA -> Landing page -> Form = Contact). Forms should be optimised for each landing page, gaining you great content, but ensuring they get content equal to the amount of data they've given.

CONTACTS:

All of these leads are now contacts. If your heart desires you can use their data to give them further exciting, enticing information. The marketing database you create will be centralised but filled with every interaction you've had with the lead and how to better contact them in future.
In future blogs we will cover the next three stages of the inbound marketing methodology – close and delight.
Inbound Marketing For You
We passionately believe in the advantages of inbound - we've seen the results for ourselves and now we're offering it to customers. As our former companies, Au Fait and Echo Graphics, we delivered a lot fo these services, just without the title. Now we have the title and a new title for ourselves (thrive), we want to pass it onto you.
If it's not right for you, we wouldn't offer it. Although, at least some of the key marketing methods are right for everyone - content creation is paramount for searchability, brand awareness and customer engagement. Any customer-facing business should already be aware that social media is key to success.
Plus, we still offer our creative services - branding, graphic design and website design - as part of, or separate to, an inbound marketing strategy - few companies can offer the whole package, but our expanding team can.
Next Monday will see the release of our fourth blog, highlighting the effects and benefits of "close" – that is stage three of the inbound methodology we follow.