If you haven't watched the global phenomenon that is Netflix's Tiger King, have you been breaking all of the pandemic rules?
For the rest of us who have enjoyed/endured Tiger King, thanks largely to being cooped up inside with little else to do other than binge watch whatever's put in front of us, you will have delighted in the dramas, dramatics and downright disastrous mismanagement and poor handling of the GW Zoo in Oklahoma, USA, owned by the self-named Joe Exotic.
Although there are just so many storylines that I could discuss here, in fact, could probably do a dissertation on, I'm focusing on the digital marketing tactics picked up on by Joe Exotic's nemesis, that damn Carole Baskin, when he 'took an opportunity' with his marketing efforts to piggyback on her digital success…
We are, after all, a digital marketing agency, so I've got to talk about what we know, but if you do want to dissect the horror of the many dramas throughout Tiger King, please shout on Twitter and we can chat to our heart's content…
Episode 4 of the docu-series, entitled 'Playing with Fire' (watch here), includes a segment in which Carole Baskin - a rival wildlife park owner who promises to give the tigers she cares for a safe and comfortable life after being bred in captivity by other owners - explains one of the ways Joe Exotic tried to essentially steal her audience, using some underhand SEO and digital marketing tactics…
Of course, if you've watched the series you will know Joe's entrance into the digital world started with his internet TV show he had been broadcasting for many years from a TV studio at the GW Zoo. But what was most interesting was his foray into Google rankings and social media in the fourth episode...
Joe Exotic was becoming increasingly frustrated about the success and online popularity of Carole Baskin's Big Cat Rescue sanctuary park, which was dominating online local searches as well as amassing huge fans on Facebook.
He vented about how anyone looking for a 'tiger' on Google nearby would be pointed to her Big Cat Rescue website. Fellow big cat owner, Bhagavan "Doc" Antle, the founder of Myrtle Beach Safari, agreed with Joe's frustration:
"She's the first choice every time – supersedes all the zoos; she's at the top of all search."
Of course, if you know Joe Exotic, then you know he was never going to invest in good and proper organic and/or paid methods to boost his rankings. No, instead, GW Zoo's (arguably long-suffering) then-manager, John Reinke, explained:
"Joe started realising that if he made his name close to Big Cat Rescue, when they Google it, it might pull him up first...".
Sure enough, Joe rebranded GW Zoo to Big Cat Rescue Entertainment, and even went as far as choosing an almost replica of Baskin's long-standing logo, as shown by Netflix: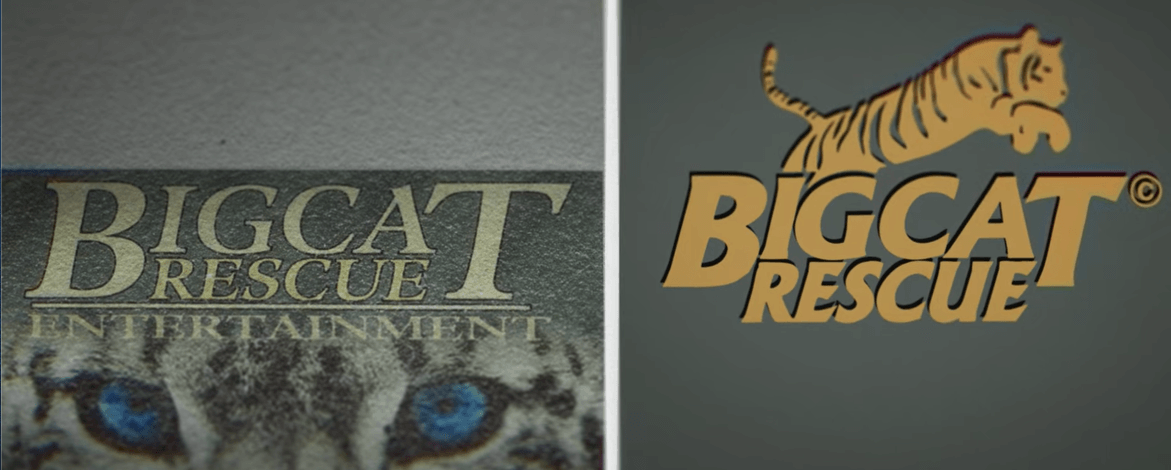 It was even noted during the episode that the 'B' and 'T' fell below the line in a replica fashion, but also the word 'entertainment' was less clear, making it less obvious that it was potentially a different organisation to Carole Baskin's.
Of course, Joe initially saw success, with the Baskins explaining that Joe also had a Florida phone number advertised that re-routed to Joe's park, bringing new numbers to his shadily advertised park.
However, as you can expect, as with any case of black-hat SEO, it all came tumbling down when Carole Baskin and husband, Howard, sued Joe Exotic for copyright infringement and won a $1 million settlement.
Black-hat SEO is largely an outdated practice, one that is heavily penalised by Google's savvy algorithms, but this tale also represents the importance of not focusing on your competitors too much.
Of course, I don't think any sane businessperson is focusing on their rivals to the bizarre and frightening extent that Joe Exotic did with Carole Baskin, but it's worth noting, that you should be focused more on what you can be doing for your own business, than what your competitors are busy doing.
Think:
What does my audience need to know?

What does my audience expect to hear from me - and in what format?

Who is my audience? Where are they looking for me - online search, social, podcasts, radio advertising?

What content do I need to attract new visitors, and convert them into leads, and then customers?
Watch the trailer for Netflix's Tiger King now:
Start there and work your way up to building out a proper digital marketing strategy that focuses on your marketing strengths, business goals and audience's needs.