In a sector that is focused on 'all things digital', can direct mail still give the same impact or return as social media, email and all other forms of digital marketing?
North East businesses are currently witnessing – along with the rest of the UK – a backlash to digital, as GDPR regulations loom and JD Wetherspoon deletes its marketing email database and social media accounts.
We're getting more and more requests for our fantastic, traditional direct mail campaigns.
Although it is easy to see why direct mail might seem unnecessary and dated these days but it does not mean you should write it off, here are a few reasons why…
Integration with digital marketing
Direct mail works great with modern digital marketing techniques and tying them all together allows you to provide a seamless customer experience. For example, you could offer a way for people to reconnect with your website through a QR code on your direct mail.
Another could be an alternative to an 'abandoned basket' email reminder that these days we have all become used to.
Direct mail could be a welcome alternative and reengage the customer, studies have shown recipients of direct mail are 79% more likely to act on direct mail immediately compared to only 45% of email assuming your email is even unopened or simply ignored (Source: DMA).
Personal Touch
Direct mail is personal and tangible, with 70% of the UK saying, "I feel that I receive too many emails".
As well as that, we have a whole generation that lives on Snapchat and Facebook, we're all used to being advertised to through the digital medium and tend to robotically swipe and move on without taking anything in. Direct mail reaches customers on a personal level within their homes with something you can hold in your hands, with 57% of people saying that receiving mail 'makes them feel valued'.
Because direct mail is tangible, studies have shown the average life span of your mail is 17 days as opposed to mail with an average life span of two seconds, mail more than ever gets our undivided attention with 80% of direct mail recipients scanning or reading each piece before throwing anything away.
Brand Awareness
Direct mail increases brand awareness because the consumer has spent more time looking at your mail and it is more likely to stick around and be shared, with only 44% of people remembering the brand directly after seeing a digital ad, whereas 75% could directly after receiving direct mail (Source: Digital Doughnut).
Systematically deleting emails have become part of our daily routine but with mail up to 80% of consumers say they will open all their postal mail (including the so called 'junk mail') you can be almost certain your brand will be seen and remembered.
A nice surprise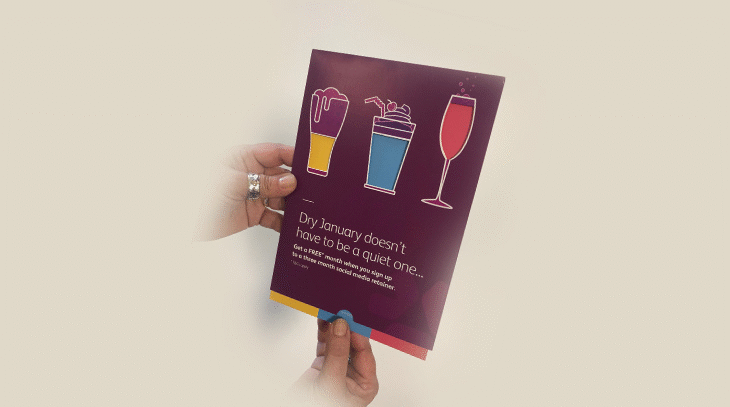 Direct mail arrives on a much less cluttered channel in comparison to overwhelming inboxes cluttered with unsolicited marketing emails, people are much more likely to engage with direct mail this increased response rates from 0.12% for email to 4.4% response rate for direct mail.
Using direct mail as part of a wider digital strategy builds a relationship with the audience, this means that direct mail generates 10% more customers than just email alone.
Broaden your reach
Direct mail also allows you to reach a broad demographic something you cannot do across digital marketing. With 75% of 18-24-year-olds looking forward to what's in their daily post, mail creates a more personal and immersive experience for a generation who were raised with iPhones in their hands mail has an emotional response. Whereas only 59% of people between ages 65 and 69 own a smartphone, meaning direct mail can be a perfect way to engage that missing segment of the market.
Creative
Lastly, with direct mail, creativity is limitless allowing campaigns to be personal to the consumer and the company. Being able to create a physical product that engages with the consumer in a multi-sensory way is something that cannot be replicated on digital. Direct mail allows us to create well-timed personal experience that is memorable.
About Our Direct Mail Campaigns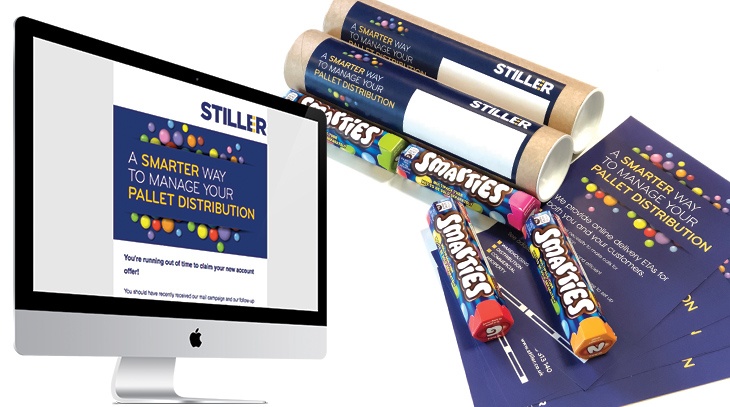 At Thrive we have completed a number of direct mail marketing campaigns, most notable are the ones we have produced for Stiller Warehousing, a transport, distribution and warehousing company. Their mail campaigns in particular create a strong brand response leaving you in no doubt what kind of company they are. Mostly used for engaging new customers to open an account, we always try to make the mailers an event for the customer sometimes including sweets or a gift to further enhance the personal, memorable experience.
"As a company we continue to adopt innovation throughout our business whilst at the same time continuing to deliver on the traditional values that the company was built upon - strong personal relationships and impressive customer service are at the core of what we do.

"We feel that this has been reflected in the mailing campaigns that we have undertaken with Thrive and it is the emotional effect which has underpinned the effectiveness of the campaigns - they leave a lasting mental impression, making them easier to recall and the quirky and personalised nature typically makes clients (and potential clients) feel more valued and helps to enhance or create a more authentic relationship.

"We have seen a significant response to our campaigns which have resulted in new business generation as well as the return of clients with whom we have previously worked."
Matthew Stiller, Commercial Director, Stiller Warehousing
If you are interested in finding out more about how direct mail can improve brand awareness and engagement rates that link seamlessly with your digital marketing strategy, get in touch.