Even if you're a small business, you probably understand the importance of search ranking and SEO performance.
We want to give an overview of the two elements that directly impact your search performance that can be relatively easy for small businesses to improve their WordPress websites:
Technical SEO
On-site SEO
We've also introduced a tool that directly supports companies' efforts to boost their search performance - Yoast SEO, a tool for WordPress websites.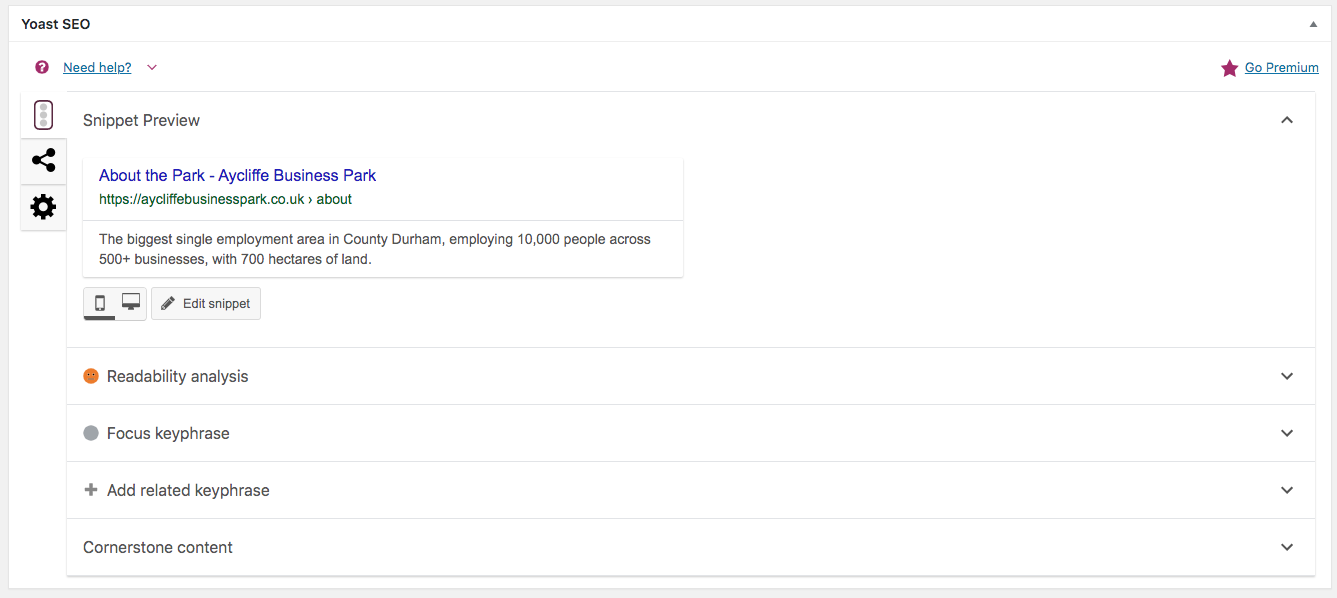 We are implementing Yoast SEO as standard for all websites we build in 2020 as we understand it can go a great way to supporting an organisation's search performance - whether or not it's a priority right now.
Above all, however, if you're looking to boost your search performance you should ensure your website is successfully set up and optimised to ensure your core site content is allowing for any possible search performance boosts. It's also invaluable to review the technical setup of your WordPress website as this can have a severely negative impact on the way Google and other search engines read and rank your website.
So, first things first, review your site build and functionality, on desktop and mobile, before even getting started with Yoast - skipping this step will skip the absolute foundations of a high-performing, SEO-focused WordPress website.
1. Review your technical SEO performance
WordPress is favoured by many because it is a strong content management system allowing for a fantastic foundation for any organisation if it's set up correctly.
If you have a WordPress site that also has custom themes, plugins and customisation, then you should really be doing well!
However, there are some areas of your site worth checking, that you may not even be aware of…
Site Health
Installing the Health Check plugin allows you to get technical insights about your website's current capability and setup to make decisions about how to boost your site's performance and abilities.
Hosting
WordPress is clear about recommending choosing a hosting plan that includes modern versions of MySQL, PHP and HTTPS support. The Health Check plugin above will identify these technical details too.
If you have a quality, expensive website, it doesn't pay well to cheapen its ability by skimping on hosting. Ensure your site is secure and supported well if needed.
Upgrade to PHP 7.0 or above
Indeed a lot of sites are running on PHP 5 series, and although this doesn't necessarily cause any significant issues, anything running on PHP 5.6 or older is no longer supported by WordPress. Running on older versions means you're at an increased risk of being vulnerable to security attacks.
PHP 7 is worth considering as it:
Offers a speed boost
Runs a lot more efficient - less server stress!
A future-proofed, safe and secure environment
Always ask your website developer before making any such upgrades or changes as doing so without technical know-how may result in data loss and site downtime.
SSL and HTTPS should be in place
Once upon a time, Google and general web traffic didn't really care for SSL and HTTPS adoption, but now Google requires an SSL certificate and showcases whether a site is deemed 'secure' or not in the search engine results pages.
Equally, the average web user is much savvier than they were 10 years ago and it's important to prioritise maintaining a healthy approach to security given the many data hacks and ransomware attacks on sites in recent years.
Indeed, site speed and performance figures also factor in your website's SSL/HTTPS setup.
2. Optimise your on-site SEO performance
This can cover so many areas, not least whether your content is relevant, well-written and SEO-optimised (which doesn't mean, 'Let's go keyword stuffing crazy!').
Keyword research
Think about the topics and key phrases your site content is structured around - are you creating content about the topics that your readers really want to digest, that is helpful to them?
It's probably true that you could argue your website content could cover a wide array of topics, but you're best streamlining your content offering to just a few specific topics, to build your knowledge, expertise and online reputation as a specialist in key areas. Focus on incorporating your most valuable and relevant keywords within this content, and regularly repurpose and reformat high-performing quality, by offering updated information, or expanded details on strong pieces of content for maximum online visibility.
Content structure
Is your content always well-structured and well-written? Typically the content that will most benefit your search performance is blog posts and ungated website pages, such as product and services pages. These should be structured coherently, with blog posts typically answering the 5 Ws and H (who, what, where, when, why and how).
It should be easy to read with plenty of white space to pace the reader's eyes as they scan your website.
Set up and utilise the power of Yoast SEO!
You can find out how to optimise and utilise Yoast SEO by navigating to Yoast SEO > General > Dashboard. This can be done once you have installed the plugin.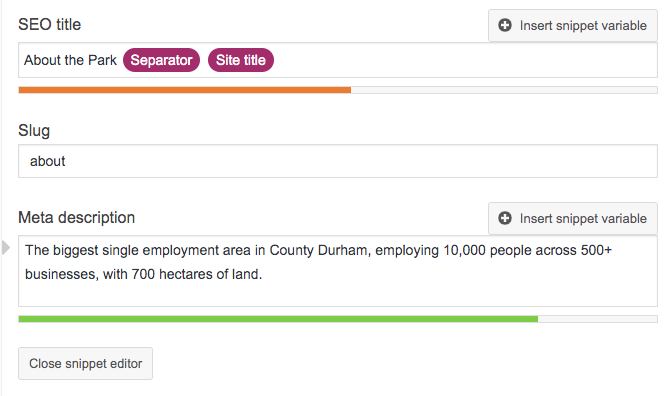 To begin with, there are some obvious areas in the tool that you can make immediate improvements to:
SEO title
Slug
Meta description
But once you start to get comfortable with improving and optimising the technical and on-site performance of your SEO, you can also begin to further utilise the capabilities of Yoast SEO which go beyond this initial screen (above).
Take a look at this post from Yoast covering the many additional features and skills it has to offer.