There have been some great social media implementations, updates and add-ons in that you might have missed...
Twitter
Who unfollowed me?
There are now many desktop websites and mobile apps designed to analyse and sort your followers - and unfollowers. Use any of them to find relevant and engaging followers and discover those who aren't active on Twitter or who have unfollowed you first.
This is a great, free way to clean up your Twitter and can be done on a monthly basis.
Autoplay
Like Facebook, in recent times Twitter has also adopted the auto play feature. However, unlike Facebook it doesn't do so when it's in your Feed, instead you have to pin a GIF image to your profile then it will autoplay whenever someone lands on your profile. This is potentially a great way to grab people's attention.
Photo tags
Another Facebook-like adoption are photo tags. When you upload a photo simply click the 'Who's in this photo?" link and you can tag upto ten Twitter users (and it won't count as part of your 140 character limit - bonus)!
Collages and multiple uploads
Don't worry about uploading photographs one by one anymore, instead you can post upto four pictures in a single tweet - and it creates a collage on your feed and profile too!
Here is an example from BuzzFeed showing two uploaded photos for the same tweet: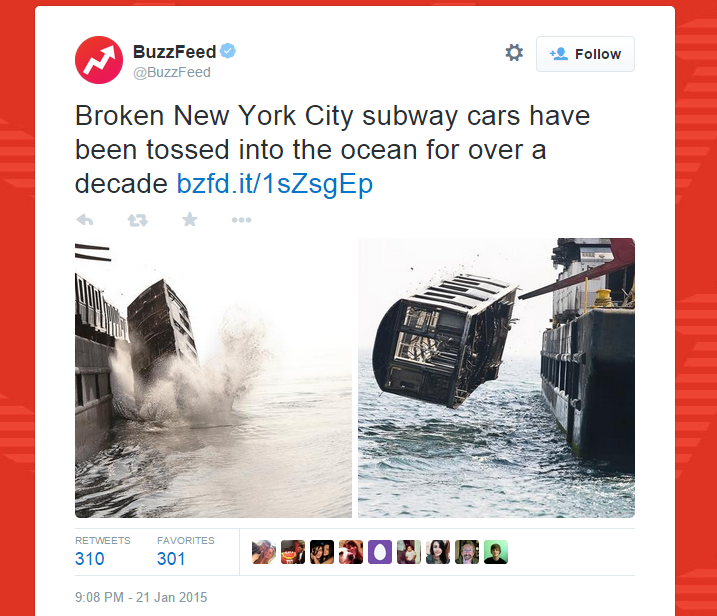 SlideShare embeds
Embed SlideShare presentations straight into your tweets, creating more reach for your content and engaging more users - viewers don't have to leave their Twitter window!
View this example from SlideShare:
From the digital health revolution to the mobile wallet war: Find out what's big in 2015, via @dynamoson: http://t.co/HnwMKTNn19 #FutureOf

— SlideShare (@SlideShare) January 21, 2015
Favourites!
View all of your favourites in one place! Look back on tweets you liked on a dull Monday afternoon or use it as a bookmarking tool - the choice is yours!
Here is a look at how our favourites are displayed in Twitter and where you can find yours:

LinkedIn
Showcase Pages
Allow your company the opportunity to further define services and segment updates. Produce showcase pages for your company LinkedIn page to promote specific products, target particular buyer personas or better aim messaging and content at particular audiences.
Check out how we defined our services using Showcase Pages on Linkedin: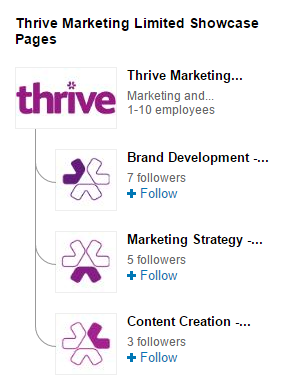 Define your relationships - privately!
Use this clever tool to put private reminders, notes and details about a connection. Simply click "relationship" under a person's profile picture and then you can privately add details about the person, your past communications, future meetings etc.
This is how I defined Thrive's Strategic Director - aka my boss! Plus, you can see that you can even go as far as reminding yourself of who introduced you, perfect for networking purposes!
Embed portfolios and other media
Keep your profile interactive, relevant and eye-catching by including various media files in your profile. These file types can include SlideShare, documents, links, images or multimedia and can be included in various sections of your profile.
To add, simply click "Edit Profile" and look for the below media icon when you hover your mouse over a chosen section.

Facebook
Reorganise your business page
Don't just be an Average Joe, let your creativity and business page shine to its best potential by reorganising the structure of your page to suit your business and your content.
Hover over the section header of your chosen section until the small blue pencil appears, simply click "Manage Sections".
Just look at the options open to you...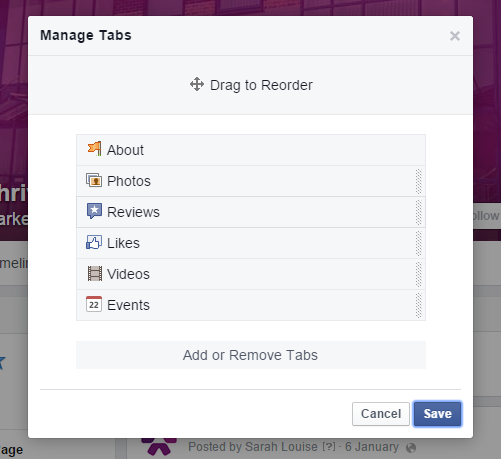 Save reading links for another time
We often quickly scroll through our Facebook feed while getting in the car, on our lunch break, on the go and we don't always have the time to read articles that appear. A lot of the time we eventually forget or they disappear the next time we go to find it.
Facebook has developed a pretty handy tool that will make all such problems vanish. Click the down arrow on the top right of your chosen post and choose "Save..." - easy-peasy!
Once saved you can access your chosen reads from the Facebook homepage or go to the URL: https://www.facebook.com/saved/!
I can't wait for my lunch break to start researching this article from BuzzFeed...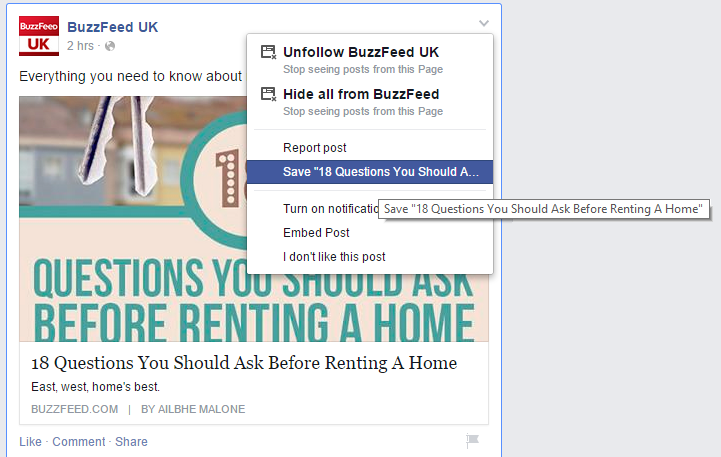 Have fun: Replace ads with baby animals
Kind of alarming from a marketing point of view that people can block your ads with pictures of kittens and dogs, but it's fun too!
As Facebook becomes more people-centric and less ad and business-orientated (unless you put the £££s in), app developers have come up with this cute option of hiding ads!
I'm definitely going to be less tempted to buy that T-shirt now (maybe more interested in buying a cute Labrador puppy though...):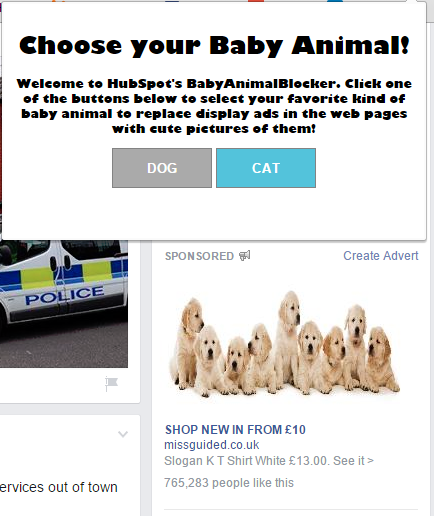 Find more like this via Social Media.