Powerful marketing campaigns have the ability to be remembered long after they've been released.
Whether you're looking to increase brand awareness or drive sales with a brand new product launch, an innovative and creative marketing campaign will be essential in reaching your business goals - and it doesn't have to cost the earth!
If you're starting to think of marketing campaign ideas for 2020, what better place to start than looking at some of the most popular brands you know? We have pulled together our personal favourite ads in 2019 from a variety of industries such as food & drink, e-commerce and health & beauty.
From video to social media to traditional marketing, let's take a look back at some of the biggest campaigns this year…
Greggs
The wait is over… 3.1.19 #vegansausageroll 🌱😍 pic.twitter.com/UWcXFCtxdE

— Greggs (@GreggsOfficial) January 2, 2019
At the beginning of 2019, Greggs launched its vegan sausage roll, something which propelled the brand into the headlines with its spoof Apple-like advert.
Jumping on the growing demand for vegan food, their new range of sausage roll definitely got people talking and Piers Morgan was quick to criticise (obviously) which helped boost the campaign even further.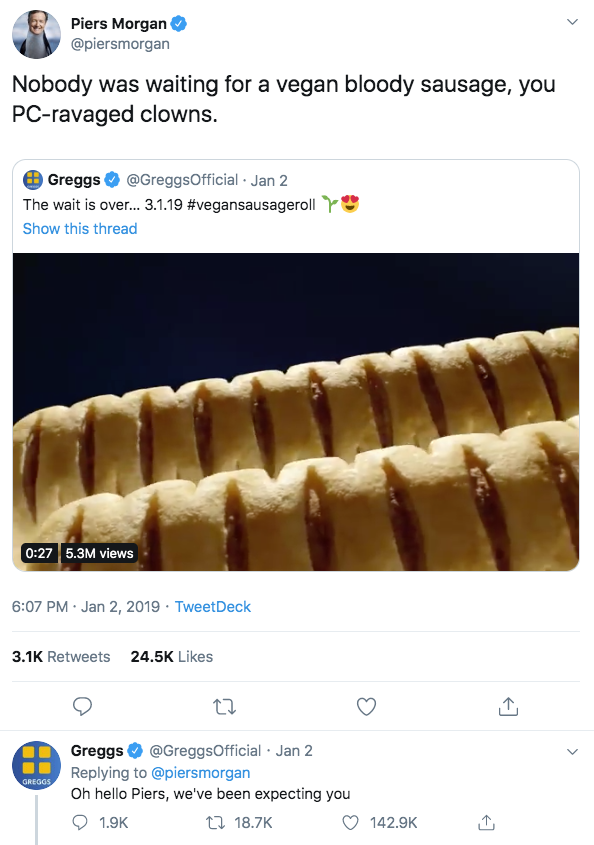 However, Greggs' social media team were quick to respond with some light-hearted banter, gaining more engagement than their original post. From this campaign to their flipped sign in Fenwick's window, Greggs always keep their eye on the ball with their marketing and we can't wait to see what they do next!
Amazon
There's no hiding from the fact that voice assistants are everywhere - say 'Alexa' almost anywhere and she'll reply.
Amazon plays along with the joke by imagining a variety of Alexa 'fails', because who wouldn't want an Alexa-powered hot tub? However, as you come to see, 'not everything makes the cut'... probably for the best.
With the ad having a primetime slot during the Super Bowl, Amazon achieved over 45.9 million views for this campaign alone - 'Alexa? Play 'We Are The Champions'.
Oreo
This year saw the final season of Game of Thrones and if you didn't watch it, you will have definitely heard about it… and if you haven't, where have you been? Brands from Urban Decay to Bud Light created campaigns inspired by the epic TV series, however, the one that should really take the Iron Throne was Oreo.
In one of Oreo's largest-ever brand collaborations, they recreated the show's opening title using 2,750 cookies - we wish we were part of that production team when that was a wrap! The ad was created to promote their limited-edition Game of Thrones packs, featuring embossed house sigils on each cookie. Pretty cool if you ask us!
Spotify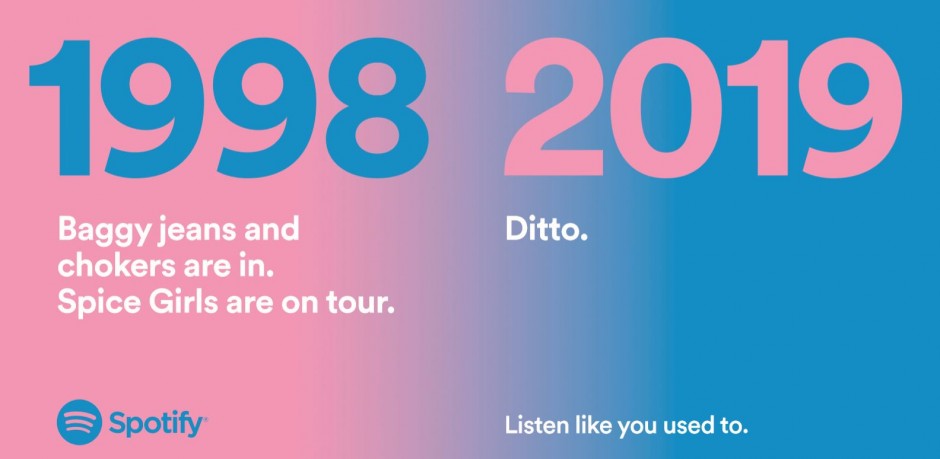 If you're a fan of clever wordplay, then you'll love this campaign! Spotify created "Listen Like You Used To' to build on a sense of nostalgia comparing tracks from the 80s and 90s to now.
From Spice Girls to Happy Monday's, the quirky billboards soon caught people's attention and were shared by passers-by on social media, ahead of Spotify's online advertising promotion.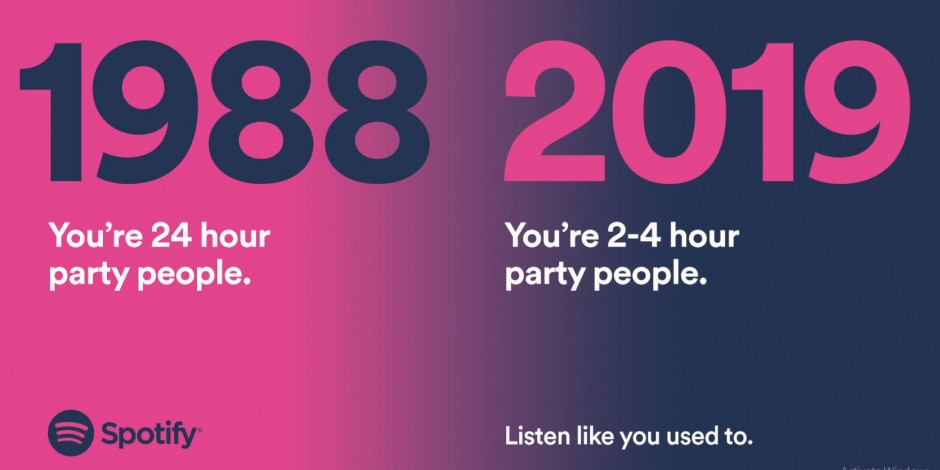 Even though times are changing, classic songs will always be just that, classics. And Spotify will be on hand to provide music lovers everywhere the songs that they miss from times gone by.
KFC
Imitation is the sincerest form of flattery. Well, that's how KFC see it anyway.
As an ode to the Godfather, Colonel Sanders takes on a more serious role to the jolly old man we used to know. He passes knockoff chicken restaurants like 'QFC' and 'Lip Lickin' to drive home the fact that "There's only one colonel in Chicken Town" - KFC.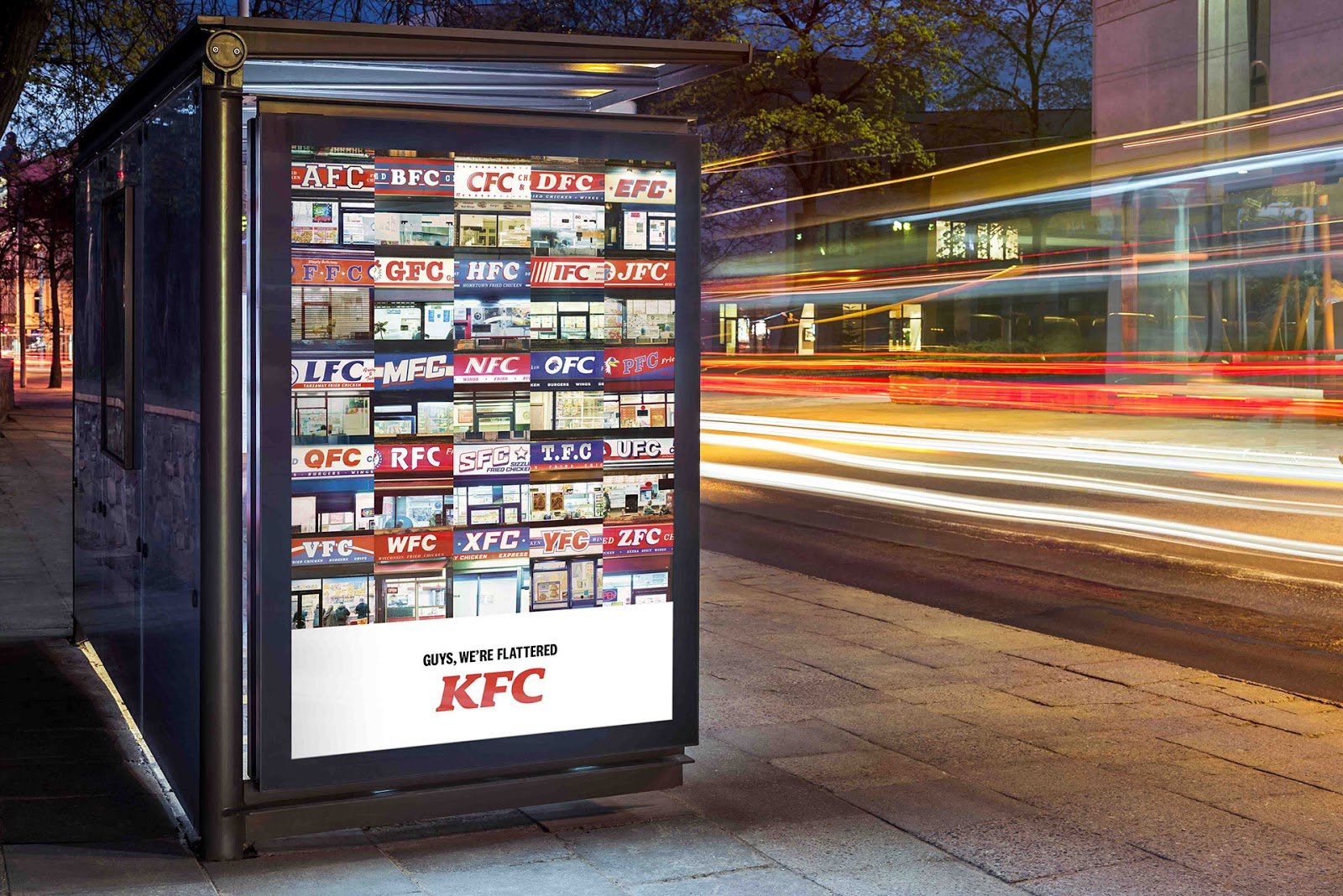 Innocent Drinks
We've made a new drink. It's blue. It's tasty. It's blue. It's good for you. It's blue. It's made from apple, lime, guava, and coconut water. It's blue. It's boosted with vitamins. It's blue. It's the perfect subject for a Venn diagram.

Did we mention it's blue? pic.twitter.com/7T4QFZlWGm

— innocent drinks (@innocent) April 18, 2019
There's nothing that will bring the social media community together rather than a colour debate. Whether you thought it was white and gold or blue and black, your mum, nan and even your cat had something to say. So when Innocent Drinks released their latest drink called 'bolt from the blue', the question on everyone's lips was 'Is it really blue?'
After reiterating multiple times that the drink is actually blue, social media users didn't seem to agree. As people came forward to say the drink was, in fact, green, Innocent Drinks weren't having it. Their social media team stayed on high alert and were comedically replying to comments, perhaps in denial… but we still think it's green.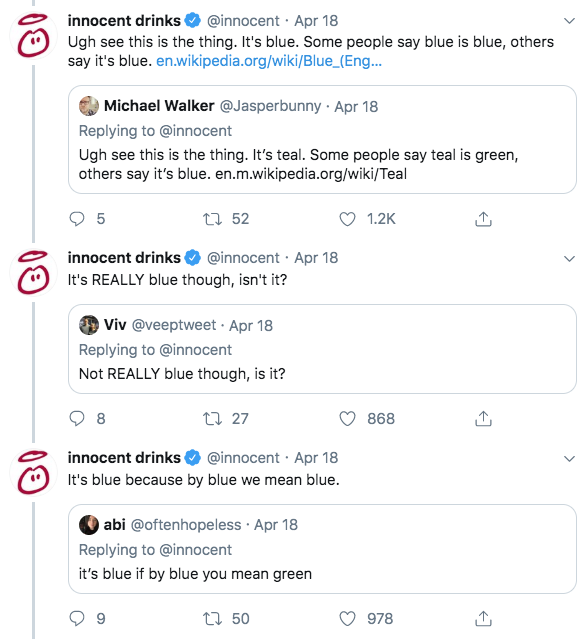 Dove
Did you know that 72% of women in the UK still don't feel represented in media & advertising?
Dove set out to make a change with their Project #ShowUs campaign with the help of Girlgaze, Getty Images and the general public. They encouraged women everywhere to share their images to build up 'the world's largest photo library created by women and non-binary individuals to shatter beauty stereotypes'.
As one big brand takes action against the lack of representation in advertising, we hope that others will soon follow suit so that inclusive campaigns will be the norm in 2020 and onwards.
Which is your favourite ad campaign of 2019? Let us know by tweeting @ThriveHQ!