What is inbound marketing and how can our North East business provide it for you?
Today, we want to tell you it all. Starting with the fact that our company is the baby born out of a great working partnership between Au Fait and Echo Graphics.
The Directors of those two companies - Rachel Townsend Green (Au Fait) and Johnny Woods (Echo Graphics) - have been friends and working partners for over 15 years. When they moved into the Enterprise House offices on Welbury Way, Aycliffe Business Park, it was inevitable that the two and their ever-growing teams would work closely together.
Two years on and the teams have long been behaving as if they were one company anyway, so it only made sense to give it a new name and brand - we are Thrive.
We still do the same stuff - more or less - as before, we still appreciate and aim to keep our current / previous clients 'in the loop', but we also want to do something more.
Echo Graphics is known for producing high-quality websites, graphics and branding for all kinds of businesses, across the UK - Thrive can still do this for you.
Au Fait is known for their content creation, strategic integrity and social media marketing - Thrive can still do this for you.
Johnny and Rachel are known for being great friends, strong leaders and friendly faces for all of their clients - Thrive hasn't changed this attitude to business.
With a team of seven - forming graphics, web, social media and content whizzes - Thrive is only an improved, streamlined version of the two companies many of you know personally (or at least have spotted on the Twittersphere).
The added extra for you - now that we are Thrive - is that you can learn about the very latest marketing methodology - inbound marketing.
Outbound vs. Inbound marketing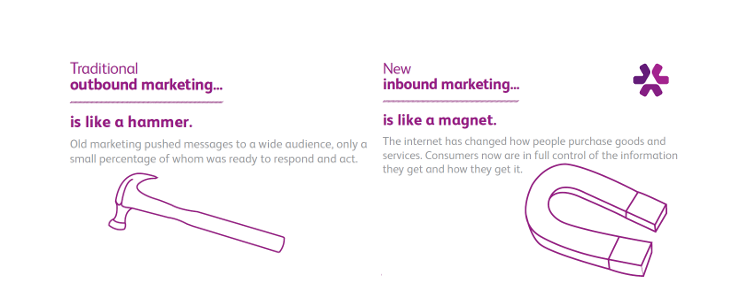 Inbound marketing: An education
We probably could give you a full curriculum on how inbound marketing works, how it benefits your business and why it should be implemented in a wider marketing strategy, but for now, let us introduce the concept:
"Traditional (outbound) marketing is where messages are pushed out to the target audience, for example, television adverts, radio commercials, printed advertisements, direct mail campaigns, billboards etc. Before the advent of the digital age, there were no other options, marketers could try to be focused in their communications but they were, on the whole, sending messages out into the world hoping that they would resonate with sufficient people as to make the campaign viable.

"Technology has provided marketers with a whole new suite of tools, methodologies and media, but it has also created an audience of such sophisticated and discerning consumers that are no longer susceptible to, or tolerant of, the traditional, interruptive messaging so loved by outbound marketing methodologies."
For the full explanation of inbound marketing, visit our blogs on the subject (the above extract is taken from our An Introduction to Inbound Marketing Ebook).