We love seeing businesses enthuse about Twitter - and all aspects of social media marketing - but some companies need support with strategy and best practices...
Thrive doesn't want to offend anybody that is willing to "give it a go" when it comes to Twitter, but it's clear from research, studies and best practice, that a strategy is key. Make a note of the etiquette and typical behaviours and rules for using Twitter, to ensure that your enthusiasm doesn't cause damage rather than support!
What Is a Twitter Hour?
A 'Twitter hour' is a weekly event that happens on a certain day at a certain time (some hours will have two dates, one will most likely be a late hour 8-9PM and the other held on afternoon, i.e. 3-4PM). The hour will have it's very own #hashtag. Hours will usually be location-related or industry-related. For example, #NorthEastHour or #MarketingHour.
Here is what a Twitter hour conversation looks like:

How do you take part in a Twitter hour?
Once, you find the date and time of the hour you wish to take part in (for example, #AycliffeHour at 3-4PM on Thursday) you type #AycliffeHour into your search bar at the top right corner of your Twitter page. Then you can see all tweets from the other businesses taking part in that hour.
Here is what it will look like: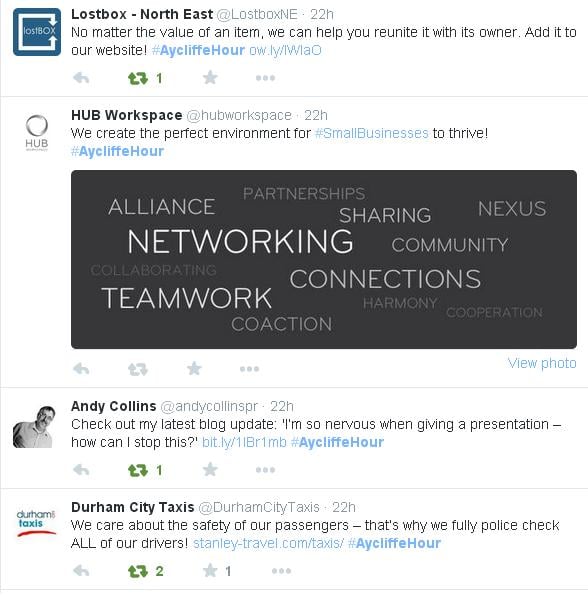 Once you're in the Twitter hour and you are reading other people's messages don't be afraid to start a conversation, like this:

Retweeting other businesses messages is also a way to network and be friendly. Interacting with other businesses is the most important element of a Twitter hour, it's why they were created - so don't be shy!
What makes a good Twitter hour message?
When taking part in a Twitter hour your messages should be relevant and interesting. There are a few things you can do to get your messages noticed...
Post links, share interesting articles or your latest blogs. It gives businesses something to start up a conversation with you about: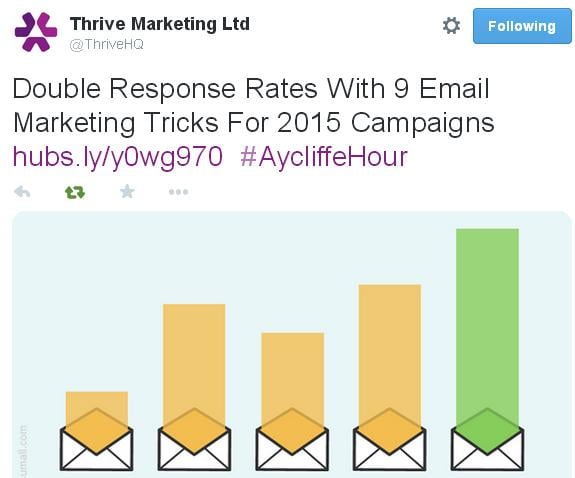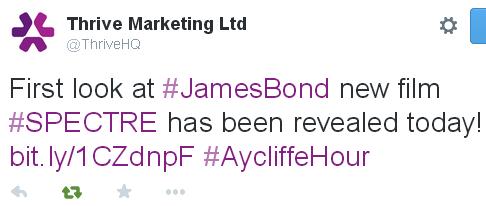 Encourage people to contact you! Don't expect people to see your company name and then search for your contact details, put them right in front of them: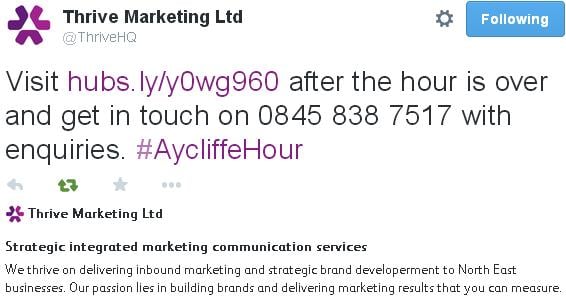 Here are some extra tips to get the most out of Twitter hours...
Remember the hashtag! It might sound silly but many people will tweet @AycliffeHour instead of #AycliffeHour and if you slip up and make a 'typo' your post won't be seen at all.
Don't bombard the Twitter hour with too many messages. It's often about quality, not quantity. If the content you're providing screams 'me, me, me' rather than providing helpful, relevant messages, it ain't helping anybody.
Don't be mean. This one probably goes without saying but, be nice. People attend Twitter hours to network and chat with other businesses. Keep it friendly!
Find more like this via Social Media.