Even today in the digital age we're all living in, it's easy for SMEs to become distracted by other issues and forget the need to keep their online presence updated.
Generally speaking, as humans in 2019 we like to make things as easy as possible. We're used to things being fast, efficient and even, free.
At Thrive we strongly advise against this attitude when it comes to your online marketing. Some things needs time, money and effort to provide return and a website (or app) is definitely one of those things.
Opting for a free - or keeping an outdated - solution can devalue your business' reputation. Spend time and effort on key marketing tools such as your website, app and social media (if applicable) to ensure that your virtual presence remains enticing and engaging for future potential customers. By abandoning your virtual presence you risk your potential customers abandoning you.
If your website appears to be outdated and slow, or it has technical bugs or isn't mobile responsive, consider the impact of leaving it that way. It isn't a valuable business decision.
Spending the time and effort to review your site and get it right will always be a worthwhile task.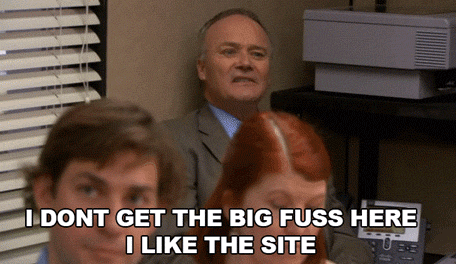 Remember - a website might have the right content but ultimately will be judged based on the viewing experience, and nobody likes a bad experience!
For example, walking by a clothes rail we're attracted by the colours, textures and designs. We will skip past the bland, unattractive pieces on the rail!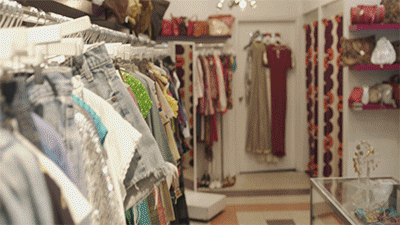 We all want to stand out - or, perhaps, fit in - so we will pull out our favourites, try them on and move towards the checkout. Although those other pieces of clothing would have 'done the job' they didn't excite us or command our attention enough in the outset.
Website visitors go through a similar experience - whether they're consciously aware of it or not - and they don't leave much time for judging your site on first appearances!
Did you know that 55 percent of visitors spend less than 15 seconds on a website?
Source: Crazy Egg
Many businesses recognise a website as a tool to display products, information and opportunities to the wider world without necessarily taking into account the 'user experience'.
Providing content is an absolutely crucial part of your website, but your site needs to be attractive - like that appealing clothes rail or shop window - and functional.
Impress your visitor by catching their eye with a smart, on-brand design and ease them in with engaging, specific messaging and pleasing functionality.
If you're starting to think about your user experience from an end-user perspective, consider freshening up your website and its functionality with these recommendations...
1. Content first
For a user-friendly website the quality of content needs to resonate with the needs of the user - this is far more important than where you rank on Google. If you focus on providing high-quality, grammatically correct content that answers your users' common questions, Google will increase your ranking - as you're providing a unique, relevant source of information.
Keep your messages clear and purposeful with bold, engaging statements or articles.
Use space efficiently and keep information laid out clearly. Remember, if your information is able to breathe, your reader can too!
Answer all of the queries and go over the information objectively - as if you were searching for your solution yourself.
Consider your brand voice and adapt your tone and style to suit.
2. Are you accessible?
Trying to find relevant content and be time-consuming and frustrating for anyone along with taking up unnecessary energy. Not only can this put off the user staying on the website, they can rule out your organisation without much more thought. Remember it takes just 15 seconds for a user to form an opinion on your website. We want to make sure people praise and promote your website by enjoying each touchpoint with their visitors.
Be upfront and present information clearly
Reduce clutter, segment information into clearly accessible and easy to access areas on the site
Ensure your content is legible and satisfying to view using clean and minimal layouts
3. From A to B with ease!
Navigation is the key to enlightening the user. A satisfying experience navigating a website will allow the user to trust the website. Navigating a website can be a pain if the content is all over the place, you don't know where the right links are or is the design is too overpowering and you don't know where to look? We want them to use the site again so give them reason to come back to you.
Keep the design simple
Consider hierarchy - which information is more important?
Don't redirect your users through excessive clicking - keep your deepest content only 3 clicks away.
Segment the information clearly in relevant places
Keep dropdown menus to a minimum
Do you really need lots of extra pages? Would a single scrolling page be enough?
4. Mobile is priority
Ease the user into your site! Make them comfortable - that ties in the design, functionality and messaging. In particular, make sure when they first land on your website it does as they expect and everything is easily readable. Ensuring your site is mobile-first is a great way of avoiding stress from your user. They don't want a jerky scrolling experience, or struggles double-tapping punching their screen.
In 2018, 58% of site visits were from mobile devices.
Source: Similar Web
Add quick, smooth transitions to your page to complement the feel of your site
Make the design flexible for resizing and ensure it moves freely for a relaxing experience
Visitors won't wait, so make sure your mobile site loads faster than 3 seconds
Make it a priority that your site will transfer effectively to mobile devices and other technology
Finally, your website should provide a cohesive overview of who you are, what you offer and most crucially, how you - only you - can help the reader solve their pain/problems/challenges.
Remember that because of your business' growth, development or the changing times and technologies, your website may not be best placed to do this as it was 2, 4 or 6 years ago when you last reviewed your website.
Thrive offers web design and development, as well as app and software solutions, why not browse our range of development services?