This is the piece we didn't want to share about our HubSpot journey.
In 2013 we became HubSpot convertees, just as we embraced the merging of our two previous companies, our new world centered around Thrive and HubSpot.
And, we'll be the first to tell anybody - HubSpot is a MASSIVE financial undertaking.
But we'd watched the webinars, completed our inbound marketing certificates, listened to the enthusiasm of other HubSpotters who had already embraced the HubSpot way of life.
It was a bulletproof business decision, right?
Wrong.
Thrive threw its all into creating ebooks and blogs, crafting email campaigns and workflows, as well as spreading the word on Twitter - hey, Twitter was big in 2013/14.
But it didn't work.
Not quite anyway.
It did bring a huge boost to web traffic, and we enjoyed the pride that came with people recognising us as a HubSpot agency, asking us what inbound marketing meant - it was a really unheard of term way back then. And we did get new leads, even some work from our HubSpot efforts.
But it was the work we were already doing - new website and branding projects. All great stuff, of course, but not what we'd set out to achieve with this huge financial investment.
In all honesty, those early days exhausted us as a team and as a business.
But then, we realised something…
HubSpot isn't a one-stop-shop which will fix all of your marketing and sales woes with a swoosh of a wand. It's a suite of tools designed to carry out your marketing activities.
You can't buy the materials and wait for a brand new garden to materialise - you have to not only put in the hard work of physically creating the garden, but you have to plan, design, dream up how you're going to make this garden be.
In the same way, you need to make a decision that if you're going to purchase HubSpot (because it's amazing) that you're going to put in the legwork and truly invest in an inbound marketing strategy.
You need to:
Set goals
Establish key objectives and metrics
Build a team
Define your marketing activities
Create a content strategy
HubSpot isn't your 'be all or end all'. It's not a miracle-worker. It needs hard work.
You can make a success without HubSpot, but you cannot make a success without inbound marketing.
An inbound strategy is even wider-reaching than our Thriveability Plan, as it signposts exactly who is doing what, to achieve which goal and by what time. It isn't just creating ebooks and blogs, it's your organisation's whole marketing and sales strategy.
However, a Thriveability Plan often initiates your company to start thinking in this manner - thinking about the bigger picture and helping your key people identify that this is a mammoth, but hugely rewarding decision.
HubSpot is the tool that facilitates your content creation and allows you to automate a lot of your marketing processes, as well as organising your sales efforts and CRM records. But it doesn't ultimately drive your success - an inbound marketing strategy does.
Step 1: Set your goals
What is your #1 priority? Decide whether you need to break these down into smaller goals, to help your journey to success.
Consider the wider elements that may prevent or support you in achieving these goals.
What is your budget?
Who has authority for sign off?
What if you don't see success immediately?
How will you define and showcase your successes?
What risk are you carrying by doing this?
What business issue will this resolve?
What business issues may this create?
Make that goal SMART by following our guidelines.
Step 2: Establish key objectives and metrics
Decide how you will define success by choosing which metrics and KPIs are going to confirm that the strategy is working - or not.
Ensure you turn these KPIs into SMART goals too, to give you and your team the best chance of defining and correctly measuring success.
KPIs are supposed to be smaller elements of our ultimate goals - they are the sub goals that help keep your team motivated and your plan on track.
Step 3: Build a team
You need to incorporate a good mix of people in your team - that means people with different perspectives and different angles of the business and how it works.
It's particularly important to not underestimate your customer service or reception team, or those on the shop floor, those that deal with customers face-to-face and on the phone. These people have insights that those in senior management won't have, and these views are more likely than the ones of senior management - they have direct customer feedback.
Of course, senior managers bring their skill sets and experience of marketing and sales to outline solutions and tools based on the customer feedback, so they are incredibly important too.
You should also assign a team lead, someone that will be the main point of contact whether you initiate HubSpot or a marketing agency to support you in delivering your inbound strategy. There should also be a decision made about compiling data and all of the notes from brainstorming sessions. Keep it all in a central place, accessible by all.
It's crucial that your team can work together, respect each others' opinions and status and have the freedom to share their ideas with the assurance that "every idea is valuable and no idea is 'wrong'", if you wish to get the best from your inbound strategy.
TIP: Inbound marketing strategies have knock-on consequences, building team morale, improving workplace culture and identifying quick wins to better improve your processes, team productivity and resolve 'niggling' issues, often too small to be noticed by those 'higher up the chain'.
Step 4: Define your activities
Create a content audit - outlining all of your marketing material, including internal resources, such as price lists and new employee packs, plus brochures, ebooks or client letters that you send. This content audit will help you review all the wealth of information you likely already have at your fingertips and where you can make immediate improvements, as well as being an ideal place to brainstorm which marketing activities are working, and which ones aren't (and why they aren't working).
Then brainstorm all of your marketing and sales activities and approaches - which ones are successful and which ones aren't?
Pull together an outline of what you will do going forward, based on what works to attract your ideal customer - your key buyer personas.
By involving marketing and sales at this stage, you will align their worlds, allowing them to see each others' opinion and how it's vital they work closer together to ensure a seamless customer experience. The opinions of your customer-facing team may be very insightful at this stage.
Stage 5: Create a content strategy
This is what we refer to as the Thriveability Plan, but you can produce your own internal content strategy if you prefer.
You need to identify and develop a shared understanding of your target audience - buyer personas.
You can attend a buyer personas workshop, such as the one we offer clients, or you can use the many materials online to pull together your own internal strategy session.
Once you identify who you're meant to target, you need to create the content that will target them at each stage of the buyer's journey.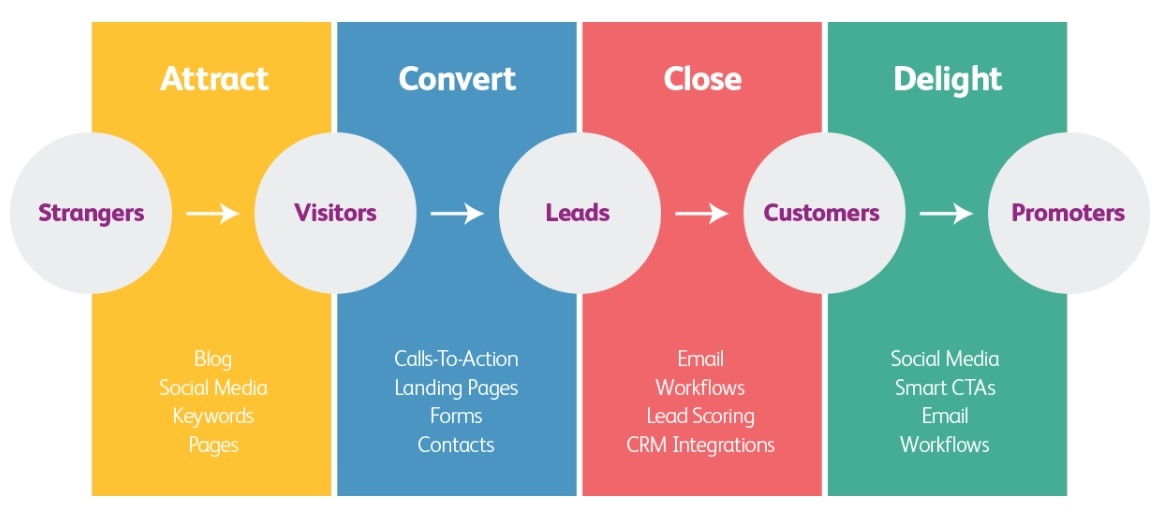 You should build content that suits their place in the buyer's journey, as well as their current challenges and how your products/services will resolve these.
Develop content strands for each of your personas that allows them to move through the buyer's journey, becoming more educated as they do. This is the inbound way of generating warm, educated leads, who want to seek you out, making the job of your sales team much easier.
TIP: Ensure marketing and sales have open communication channels and breakout sessions to share each others' findings. Does sales need a specific piece of content to help explain a particular part of your service? Does marketing need a better understanding of your sales script to understand the content that should be shared?
Now, HubSpot…
Once you've completed steps 1-4, you can realistically start weighing up the many options out there to help you automate, deliver and measure your efforts. We recommend choosing a tool that will support you to roll-out stage 5 - there will be a lot of content to disseminate and analyse.
HubSpot is our platform of choice, although it isn't the only one on the market and you should always conduct your own research to discover which works best for you. In the past, we've helped clients using other platforms, such as SharpSpring to roll-out their inbound marketing efforts.
The important takeaway is that whichever tool you use, it's the strategy that requires the most work and resource and it's the element that will ultimately decide whether you succeed or wither.
If you have questions about implementing an inbound strategy, our buyer personas workshop or Thriveability Plan, as well as HubSpot, get in touch with our team and download our ebook below.