A new feature launched on Facebook has been rolled out across Pages, identifying the 'biggest fans' of a page with an honorary badge.
The feature was teased by Facebook in March 2018 and can be spotted across various UK pages.
What is a Facebook Top Fan Badge?
At the time of the March announcement, Facebook said:
"We're starting a new test that highlights a creator's top fans by displaying a badge next to their names and adding their name to a leaderboard of highly engaged fans.

"We'll identify top fans based on how often they comment, share, react or watch a creator's content, as well as the creator's interactions with the fan and other criteria. Fans will opt into this experience, and they can turn off the feature at any time."
An example below taken from Sally Morgan's (Psychic Sally) Facebook page shows two different posters are identified as 'Top fans' by the badge above their profile photo and name.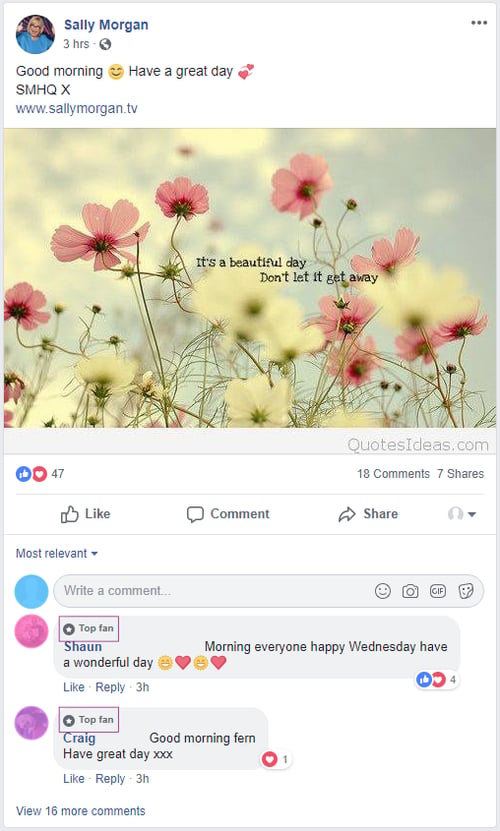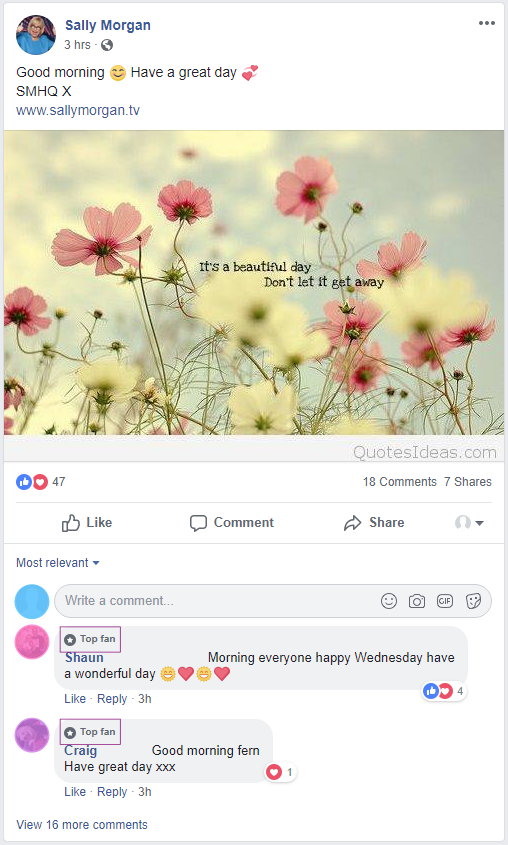 As a page owner you can also see the changing "leaderboard" of your top fans when you view your page whilst logged in. You can also find it in Settings > Facebook Badges. If you wish to do so, you can also turn off the Top Fans feature in this area of your Facebook settings.
Is my page eligible for Facebook Top Fan Badges?
Top fans is mainly designed for video content producers, but any eligible Page can turn on top fans as long as they:
Switch to the

video template for Pages. (Keep in mind that show Pages can't switch to the video template.)
Have more than 10,000 followers.
Are at least 28 days old.
Aren't using the civic engagement badge.
Top fans is only available to eligible Pages, not personal profiles.
How do I turn off Facebook Top Fan badges?
Remember you need to reach particular criteria, outlined above, to actually access Top Fan badges. Once you have the feature, you can also turn it off by:
Go to your Page and click

Settings

at the top.
In the left column, click

Facebook Badges.
Click to turn

Top Fan Badges

on or off.
After you turn on top fans for your Page, it may take up to a week for fans to accept their badges and for top fans to become visible in the Community tab of your Page.
If you want to boost Top Fan numbers, drive interest in your brand and entice your fans with offers or giveaways and regular updates.