If the statistics are right then over half of the UK will own a tablet by 2017, put that fact alongside ever-increasing mobile internet use and it's easy to see why your website should be responsive to such devices.
Even if you know you need it, it can be hard to go about getting the right people to do it for you, as the technical know-how isn't simple, yet the statistics are speak for themselves. In October, the Telegraph revealed, '20 million people now use a tablet on a monthly basis in the UK, representing a third of the population'.
Here, we are going to give you a rundown of what it means to be 'responsive' and just what the benefits are.
So, if you don't know what 'responsive website design' is, then how are we going to make you understand the benefits?
"A responsive web design uses "media queries" to figure out what resolution of device it's being served on. Flexible images and fluid grids then size correctly to fit the screen". (Source: Mashable)
In simple terms, a responsive website uses media queries – or technical jargon, shall we say – to determine the size of the screen a website is being viewed on, before effectively changing the website to ensure it fits the screen.
Why?
Smart Insights' research reveals that mobile internet users are growing, with 25% of users coming from mobile phones or tablets. This isn't the only statistic. It's obvious when you look around the train, or on the bus or in the cafe, that as our spare time decreases, people are taking the Internet with them, thanks to mobile devices and free WiFi areas.
The main benefit from responsive website design is the freedom it gives you. Rather than having apps, widgets and websites galore, you only have one website to update, giving you one set of analytics to measure.
Use http://responsive.is to see different websites in action across different device sizes – are they responsive or aren't they (try ours)? If you haven't quite grasped the concept of responsive websites, here are a few mainstream brands which have revamped to ensure accessibility for all users: Currys, Gov.uk and Microsoft.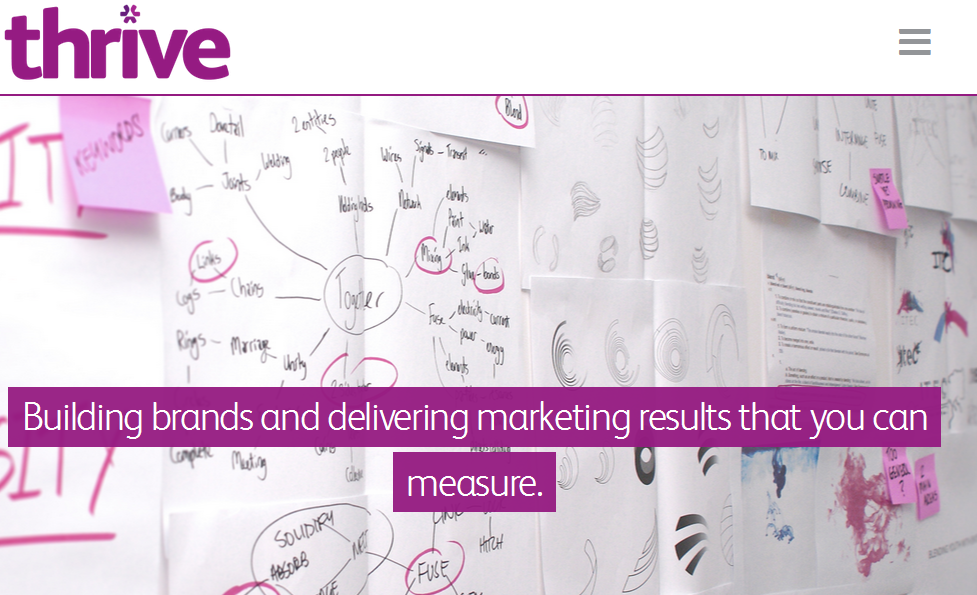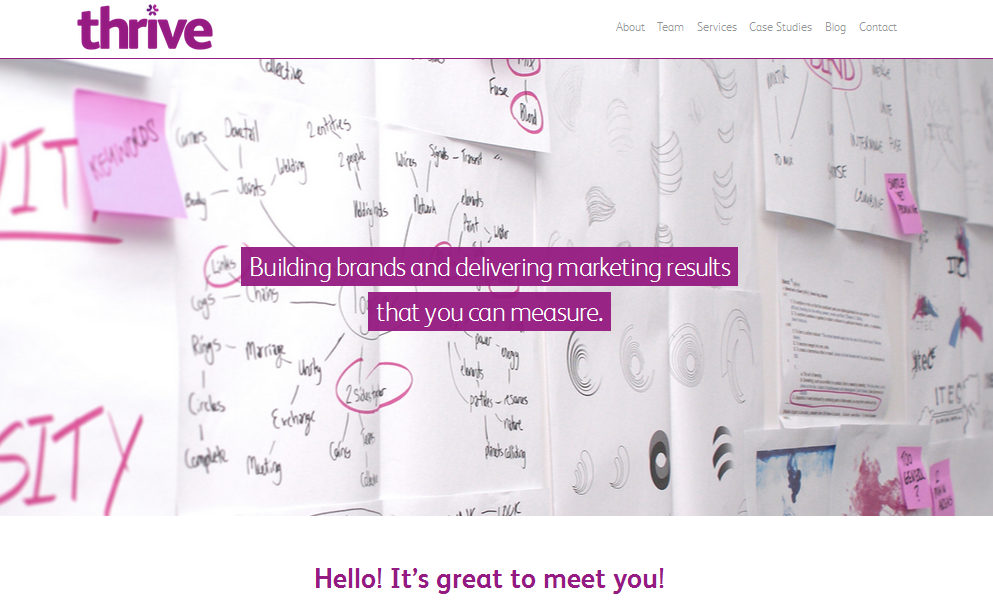 The two screenshots of our website, above, prove how smooth and integrated responsive sites can be. They ultimately improve user experience and ensure none of your vital, engaging content is let off the screen.
Benefits of responsive web design
Save time and costs
Enhanced keyword visibility
Consolidated analytics and metrics
Ahead of your competitors
"Internet Advertising Bureau's (IAB) suggests that only 11 per cent of brands of the UK's top 100 advertisers have a responsive site" (Source: The Drum). If that's the case then you're going to look fresh and those increasing mobile users are going to love you for putting the extra initial cost and effort into your website.
Watch our responsive website design animation!
If you aren't 100% sold or are still curious to find out about more, talk to Thrive by sending us a tweet and if you loved our animation, we'd love to know!