With a hoard of useful and, sometimes, overwhelming information, Google Analytics collects data that can be used to measure the success of your website.
But where do you start when trying to sift through all of the data? Every business will have different objectives and goals that they want to track, whether that's reaching more customers or increasing ROI year on year. Your website's analytics can paint a bigger picture for both your marketing and sales departments, to understand how your audience is behaving, and even if there is something stopping them from converting.
We're not going to list every single metric that Google Analytics offers - honestly, it would be time-consuming to write as well as mind-numbing for you to read. Instead, we will sum up the top five metrics that every business, regardless of sector or size, should analyse on a regular basis.
1. Users & Sessions

It's fairly self-explanatory, your users are the people who have visited any page on your website. It can be easy to get distracted by the big 'users' number, however, you shouldn't discount the importance of sessions and number of sessions per user. This figure shows how many visitors visit your website more than once, giving you an indication of how well you keep prospects engaged and retain current customers.
2. Bounce Rate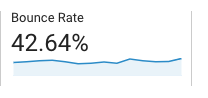 Your bounce rate shows the percentage of users that will land on your site then leave after viewing a single page. The average bounce rate for any website, according to a sample that RocketFuel ran, falls between 26% and 70%. Anything higher than 70% will negatively impact SEO and your organic reach as search engines will question the relevance and usefulness of the content on your site. Think about your audience when creating website content, how can you keep them engaged enough to stay?
3. Traffic Source

So you've got website visitors but where exactly have they came from? The four main channels are…
Organic - traffic from search engines like Google, Yahoo and Bing. This implies that you have optimised your pages for search engines, using best practices such as keyword optimisation, mobile responsiveness, quick page speed, etc.
Referral - traffic from another website besides search engines. Other sites have linked to you as they believe you are a credible source and want to send their visitors to your website.
Direct - traffic from users typing your domain into the browser. This is also the default option if Google Analytics can't tell where the visitor has come from.
Social - traffic from social media platforms like Facebook, Twitter, LinkedIn or Instagram. This will enable you to track your social media marketing efforts.
By analysing where you acquired your users from, you can find out where you need to focus your marketing efforts and align your strategy accordingly.
4. Average Time on Page

The average time on page indicates how much time a visitor spends on a page, down to the second. Are people staying long enough to read the content on the page? Or do they quickly exit? If you're interested in specifically tracking user behaviour, you can download Hotjar which will record your visitors' movements across the page to help you improve the user experience.
5. Conversions or Goals

If you've got an e-commerce site, the first thing you'll want to track is product sales. However, there are many more valuable conversions that you might want to track which is where Google Analytic's Goals comes in handy. You can set up Goals to monitor anything from newsletter subscriptions to form submissions and so much more!
These are five of the most important Google Analytics metrics that you should be analysing, but don't be scared to explore the rest of the platform as there's so much more to uncover.
If you don't feel comfortable throwing yourself into the deep end, then you might want to consider the Google Analytics Individual Qualification. Whether you just quickly run through the beginner's course or actually take the assessment, you'll get a far more comprehensive understanding of the power of Google Analytics.