It really does pay more to post less on Facebook, a study has found.
The survey by media research firm Bridge Ratings discovered that 44% of Facebook users unliked a brand on Facebook because they posted too frequently.
This was closely followed by 43% unliking a brand as their news feed was becoming too crowded with marketing posts and they simply needed to cull some of the brands they followed to reduce this.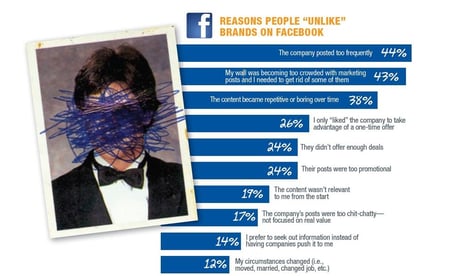 Although a lot of us know, from a personal perspective, that brands that post too often can get in the way of our friends' and families' updates, we can forget this as marketers and orgnaisations.
This survey proves that Facebook users don't just scroll through those irrelevant updates and ignore them - they're actively seeking out the ones that are most irksome and unliking them.
Other findings highlighted that people are generally becoming more disatisfied with the platform.
In 2012, 25% of 35-44 year olds stated they weren't using Facebook as much as they used to, in 2017's survey that figure rose to 41%.
If you're an organisation that is already actively using Facebook or looking for an external partner to support your social media marketing, ask Thrive for our packages.