A recent survey analysed the value of brands globally, as well as establishing the UK's most valuable brands.
There are just four UK brands earning a place in the global top 100, highlighting how tough it is to rank, particularly with tech giants achieving the top three global spots.
2018 Brandz Top 100 Global Brands ranking is carried out annually by advertising giant WPP's marketing and brand consultancy, Kantar Millward Brown.
For the second consecutive year, Google, Apple and Amazon have retained their positions at first, second and third respectively for the global top 100.
The top 100 also suggests that traditional retail brands are struggling with retaining their brand value. Ikea is an ideal example, which saw its brand value fall 8% meaning it drops a significant 23 places to 76th on the global top 100.
As we know all too well in the UK, our high street retail sector is struggling, with store closures for Marks and Spencer, Mothercare and Toy 'R' Us already confirmed, or completed, for 2018.
Without further ado, here are the top 10 highly valued global brands...
1. Google (£227bn)
2. Apple (£226bn)
3. Amazon (£156bn)
4. Microsoft (£151bn)
5. Tencent (£135bn)
6. Facebook (£122bn)
7. Visa (£110bn)
8. McDonalds (£95bn)
9. Alibaba (£85bn)
10. AT&T (£80bn)
The top 10 highly valued British brands are as follows...
1. Vodafone (£21.7bn)
2. HSBC (£17.8bn)
3. Shell (£15.2bn)
4. BT (£10.2bn)
5. Sky (£9.02bn)
6. BP (£8.9bn)
7. Tesco (£6.8bn)
8. Lipton (£6.5bn)
9. Barclays (£4.7bn)
10. Dove (£4.5bn)
Vodafone is the most valuable UK brand (37th in the global ranking) despite experiencing a 9% decline in brand value over the past 12 months.
An infographic from the creators of the survey highlights key metrics from their study's findings, as shown below.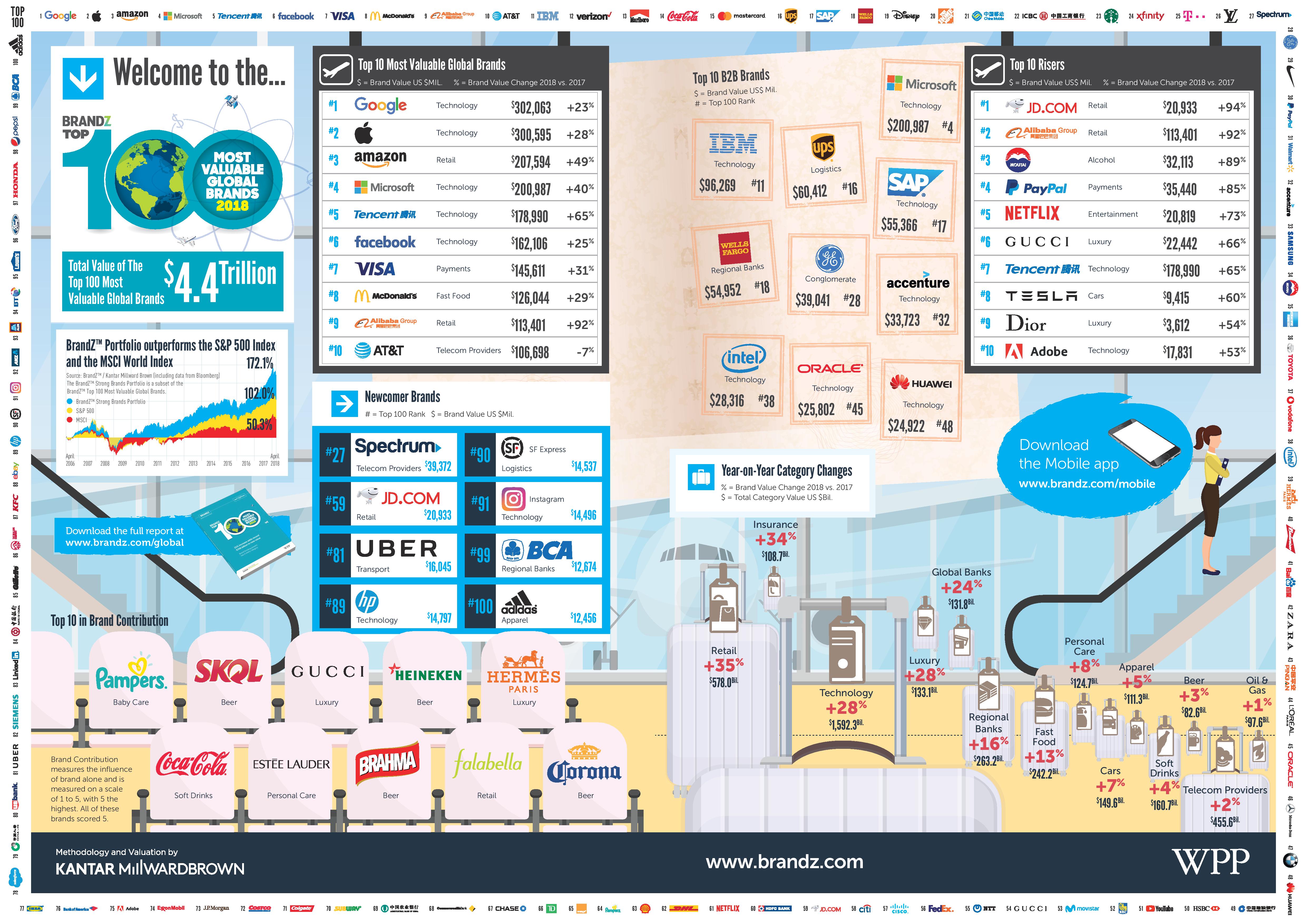 See the full resolution image by right-clicking and selecting 'Open image in new tab/window'. Alternatively, view the original file here.