Although it might seem to many like just a "Hallmark Holiday" (And yes there are lots of sales campaigns to back this up) there are also some clever takes on the Valentine's hype too...
Last year we explored some of our favourite Valentine's Day campaigns of all time but this year we're looking at specific drives for sales and awareness from different companies.
Don't forget, this year is a Leap Year, so it's the ladies' turn to propose to their partners on February 29th!
Starbucks
Whether you're in love or alone this Valentine's Day, Starbucks is providing for its US and CA customers on Valentine's Day 2016 with three limited drinks - the Molten Chocolate Latte, the Molten Chocolate Frappuccino and the Molten Hot Chocolate.
However, the Daily Mail reported earlier in the year that Starbucks has a "secret menu" which includes a number of tasty treats. Find out more here.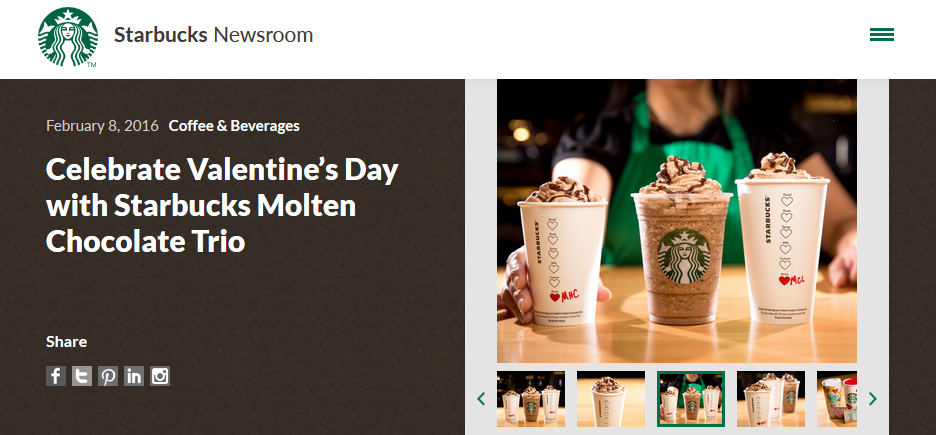 Virgin Trains
A Valentine's Day gimmick has been tied in with the revamp of Virgin Trains vehicles, producing the "Love Carriage", a singles only trip from London King's Cross to York.
Encouraging single commuters to come aboard and get their "love life back on track" (get it?!) the firm has also got Channel 4's First Dates maitre'd' , Fred Siriex to come on board as matchmaker.
There are only 24 tickets up for grabs and it will surely generate some positive PR which will show off their £42m investment into the East Coast route.
Tesco
This year, Tesco is driving awareness with 'Basket Dating' which shows a psychotherapist organising baskets into pairs based on what the individuals bought. They then go on a date together in the promotional video which shows limited success. It seems that Tesco is driving towards building a human brand, on the back of its Christmas campaign with its new "Tesco family" (featuring Ben Miller, Ruth Jones and Will Close).
Do you like the Valentine's campaign? The Tesco YouTube channel is also filled with other Valentine's related videos such as recipes and preparing the perfect glass of Prosecco.
Teleflora
The adorable "What Is Love?" advert for flower company, Teleflora, shows the diversity of love with various people, of all backgrounds, showing all different kinds of love. Heart warming and simplistic, it's a great awareness driver for a flower company - one of the key industries for Valentine's Day weekend!
Teleflora is encouraging Twitter users to share the hashtag #WhatIsLove with sentiments of love throughout February. The campaign is hoping to drive people to its Telefora Love Note Concierge which helps the tongue-tied put in words their love!
House of Fraser
On February 1st, the House of Fraser Twitter feed went a little crazy, so much so that news outlets picked up on Twitter users reactions and made it headline news!
- 'Has a 12-year-old been given the password?' House Of Fraser is ridiculed over its 'Emojinal' campaign - posting photos of Gigi Hadid carrying a chicken and One Direction with a cake and balloons [Source: Daily Mail]
- House of Fraser's #Emojinal social media campaign invokes ridicule [Source: The Drum]
Was it a hack? Had a member of staff gone AWOL? Well, it turned out to be nothing more than an attention grabbing marketing ploy for Valentine's Day, called #Emojinal.
With bizarre tweets including ones below with emojis, basically, EVERYWHERE, it wasn't until Twitter had went crazy that it was revealed to be a Valentine's Day marketing campaign.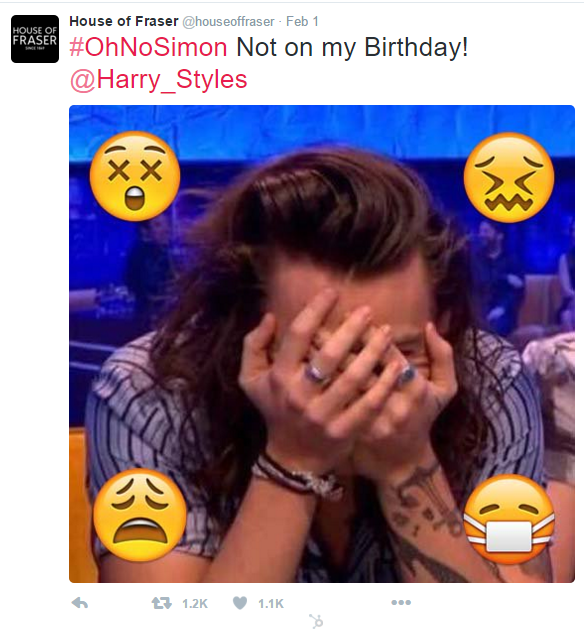 #Emojinal was supposed to show how love makes us do crazy things, as explained by House of Fraser themselves here: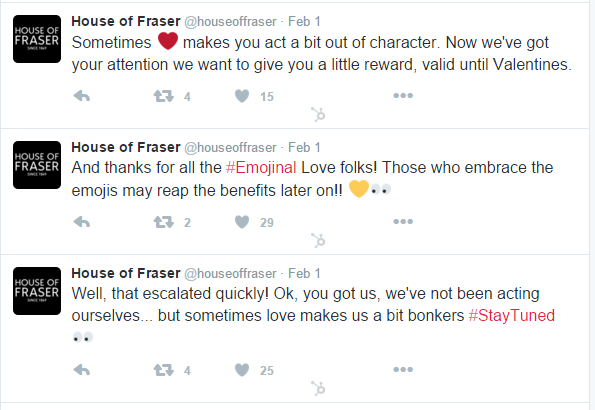 We'll have more on the whole Emojinal incident in an upcoming blog.
Now it's your turn...!
In a recent poll, London was named the most romantic city in the UK, followed by Glasgow. No North East cities were included in the top ten, with Sheffield being the closest (#4) [Source: Mirror]. What are your business marketing plans for Valentine's weekend?
Share with us your favourite or most loathed Valentine's campaigns on Twitter at @ThriveHQ!
If you want to know more about the topics in this blog, feel free to arrange a chat with our team. The kettle is always on, so call 0845 838 7517 or email hello@thriveability.co.uk and we'll be happy to arrange a get-together!